Story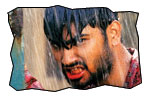 Ravi (Ravi Krishna) is a teenager staying with his parents in Brindavan Colony, Hyderabad. He is the perfect example of how any parents would not want their son to be like. He is bad at studies, ill-disciplined, good at irritating the neighbors. He has a listless gang that consists of fellow irksome teenage students from his neighborhood.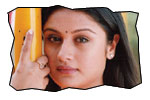 One fine day, a beautiful Punjabi girl by name Anita (Sonia Agarwal) joins Ravi's neighborhood in 7/G numbered flat. She steals his heart at first sight. Ravi falls for her immediately. But he is too shabby, uneducated and low for the tastes and standards of Anita. Moreover, she has a rich Punjabi boyfriend who also financially supports his father's business. But this does not deter the determination of Ravi loving Anita. He follows her, teases her and irritates her. In one such situation, she even slaps him with her sandals.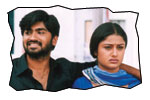 Stuck with the hard reality, Ravi stops following Anita. And Anita starts observing Ravi and she slowly realizes how good Ravi is at heart and how materialistic her boyfriend is. But by then her marriage is already fixed. She wants to break the convention and want to make Ravi a socially-respectable guy. She realizes that he is very good at assembling parts of motorbikes and motivates him to obtain a job at Hero Honda. In the process, they fall in love. When everything is going smooth, Anita's mother realizes about Anita-Ravi affair and breaks their communication.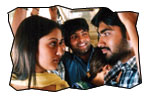 However, they manage to get to meet each other on the eve of a friend's wedding. They stay in the same room of the hotel. Anita has a problem. Her father is a heart patient who believes that she is a good obedient daughter, whereas she falls in love with a guy, against his wish. She is very concerned about her ailing father, but at the same time could not evade her love for Ravi. She makes a decision. That is to give her lover, a one night sexual pleasure. However, the next day a gruesome incident happens. Police are in search for Ravi? Would they arrest Ravi for this? Would Anita's father suffer his impending 3rd heart attack? You should watch this true life story yourself to know about it!
Artists Performance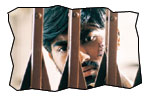 Ravi Krishna: Casting the right person for the right role brings accolades not only to the actor (histrionics) but also to the director (characterization). The trade secret of success of any artist lies in the kind of character he/she choose play as per his/her strengths, looks and body language. And Ravi Krishna is the best actor to play the role of Ravi in this film. He did so well that people would think if he grew up in those kinds of flats and that kind of psychology. It is an author-backed role. And Ravi Krishna did it with great poise. He is not good in looks department. He is not good at dances as well. But suited the character and that's what matters. His dialogue delivery, though has some Chennai-bred Telugu boy's accent, is decent.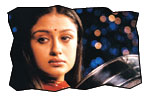 Female Leads: Sonia Agarwal made her Telugu debut a couple of years back in D Rama Naidu's 'Nee Premakai' film. Her role in 7GBC has lots of complexity and goes through different moods. Sonia Agarwal did exceptionally well to carry those subtle expressions. Looks wise too she is good.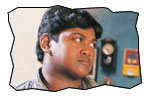 Others: Suman Setty gets a major share in entertainment section of this film and manages to carry the entire show with confidence. This film probably the best role he has got after Jayam and Yagnam. Chandra Mohan, Sudha and Sudeepa are fair. Manorama did a cameo in this film.
Technical Departments: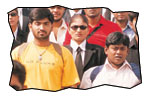 Story - screenplay - direction: Story of the film is realistic. It is also said to be based on true story. Direction of the film is sensible. Screenplay is slick. The characterization of Ravi and Anita is simply terrific. The narration is bit slower. It needs guts and commitment to have tragic climax in films. Kudos to Sri Raghava for his bold attempt! However, the director went overboard in certain scenes by making the vulgarity to creep in (though most of those scenes replicas of are real-world incidents). The director Sri Raghava (known as Selva Raghavan in Tamil) has the element of sex in all his films - be it Tulluvatho Illamai (Juniors in Telugu), Kadhal Konden (Nenu in Telugu) or 7/G Brindavan Colony. This film also shows a scene involving premarital sex (initiated by the girl). But the credit of making this scene not an obscene one goes to the director himself. Here are few episodes that were brilliantly executed by the director
Emotional moments:
1. The scene in which Ravi meets Anita for the first time on the terrace of the apartment. (Post slapping-with-sandal-episode).

2. The interval block scene in which Ravi explodes and tells his heart's content in a very understanding manner to Anita.

3. The song (1st song in 2nd half) which consolidates the budding love feelings of Anita towards Ravi.

4. The scene in which Ravi's father (Chandra Mohan) secretly repents for scolding his son all the while after seeing the employment letter from Hero Honda.

5. Ravi scarifying his reputation by lying to police that he forcibly took Anita away. (to save Anita's father from heart attack)

6. Ravi desperately carrying the bed, mattress and pillow in climax. (This shows how much Ravi loves his girl)
Entertaining moments:
1. Lakshmi (played by Suman Setty) doing Bavalu Sayya song with friends for colony celebrations.

2. Ravi climbing up the window of Anita and pleading for a chance.

3. Ravi and Anita bothering Lakshmi (Suman Setty) throughout the night by waking him up at regular intervals.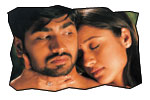 Music: The biggest plus point of the film apart from screenplay and direction is the background music by Yuan Shankar Raja (son of Maestro Ilayaraja). The background music rendered for this film is the best in recent years. And it reminds us of the standard of the background music scored by Ilayaraja for Geetanjali film. The songs scored are also good, but were not used in the film effectively enough. 'Thalachi thalachi chooste' is the best song in terms of melody, content and situational strength.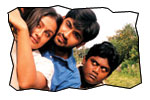 Dialogues: Dialogues by AM Ratnam are colloquial. The pre-interval dialogue is pretty good. There is lots of response from crowds for the bit - Aiswarya Rai ante andariki istame. Kaani andariki Aiswarya dorakadu. Andukani pelli kaani abbailu vere ammailani preminchadamledaa. Pelli aina vallu pellalatho samsaram cheyyadam leda?' (A dialogue that reinforces the willingness of Ravi to befriend Anita though she is getting married to another guy).
Other departments: Photography by Aravind Krishna is good. Artwork is authentic. Editing by GG Krishna Rao is adequate. Stunts by Peter Hyne are satisfactory. Production values of prestigious banner Sri Surya Movies are excellent.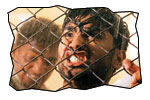 Analysis: First one hour of the film is devoted for youth entertainment about how boy gets desperate with the girl. The emotion catches up from the moment boy is slapped by the girl. The interval block is great and the climax is very impressive. This film starts with light-hearted entertainment and ends up with heavy emotions. This film showcases the scene-weaving abilities (screenplay) of Sri Raghava who narrated the first two hours of film with a mundane subject. Doing a tragic climax and making it commercially acceptable is one hell of a task. And Sri Raghava succeeded in it. This film would become a good hit and the acceptance of tragic climax by the masses would determine the range of this film. I would add this film to the dare-to-be-different genre of commercially successful love stories released this year - Arya and Anand. You must watch it!
7/G Brindavan colony links
Photo Gallery
Jeevi reviews of previous 5 films
Swarabhishekam
Apparao Driving School
Marrichettu
Aptudu
Mr & Mrs Sailaja Krishna Murthy
More Reviews