Story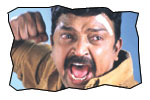 Gangireddy (Mukesh Rushi) is a powerful mafia leader in Hyderabad. His latest mission is to grab a colony. Bose (Raja Sekhar) visits his brother (Chandrasekhar) who stays in the same colony that Gangireddy has his sights on. When the colony dwellers decide to give up everything and surrender to Gangireddy, Bose makes a difference by uniting them and fight for the cause. In the process, Gangireddy kills Bose's brother and father. The rest of the story is all about how Bose takes revenge on Gangireddy.
Artists Performance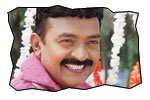 Raja Sekhar: Raja Sekhar performed well as an angry young man. The fire in Raja Sekhar which we have seen in the days of 'Ankusam' is still in tact. However, the weak point is that the situations in the movie do not have the kind of strength to exploit the superb histrionics of Raja Sekhar. Thanks to the efforts of make up man, costumer and cinematographer, Raja Sekhar looked pretty young in this film.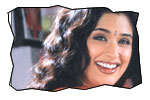 Others: Anjala Zhaveri is pretty impressive both in looks and histrionics departments. Mukesh Rushi is adequate. Satyanarayana is good as father of hero. Sunil provided some mass comedy in a separate comedy track. Chandra Mohan, Chalapati Rao, Kondavalasa, Omkar and Krishna Bhagawan are adequate.
Technical Departments: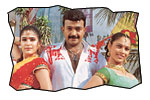 Story: Story of the film is heavily inspired by the Raj Kumar Santoshi's Bollywood blockbuster 'Ghatak' (1996). This story is pretty much a stereotype. A couple of scenes in this film are copied from 'Enter The New Dragon' as well.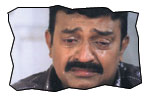 Screenplay - direction: Muthyala Subbayya - known for his grip over sentimental films - directed an action-oriented film this time round. While he is good at emotional scenes he failed in handling the action episodes and the scenes leading to fights. Screenplay of the film is mediocre. Director seems to have got confused about how to narrate the story in the second half.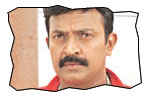 Other Departments: Music and background score by Ramana Gogula is average. Photography by S K Bhupati is good. Dialogues by Posani Krishna Murali are apt. The dialogues written for Satyanarayana's character prior to his death are good (especially 'yuddamlo geliste raaju avutadu, manasuni gelichinappudu mahatmudu avutadu'). Editing is OK. Production values by Andal Arts banner are good.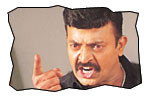 Analysis: First half of the film is passable. Second half is a let down. The story in second half meanders aimlessly. The plus point of the film is hero Raja Sekhar. Minus points is inept handling by Muthyala Subbayya for an action film. This film might have takers in B and C centers. The chances of this film making it good in A centers are bleak.
Aptudu links
Photo Gallery
Press Meet
Audio function
Jeevi reviews of previous 5 films
Mr & Mrs Sailaja Krishna Murthy
Anand
Shankardada MBBS
Satruvu
Monalisa
Letha Manasulu
More Reviews