Story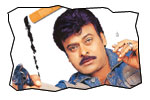 Shankar Dada (Chiranjeevi) is a local goon with a good heart who defends his extortion and settlement business as social service to maintain peace in society. But he pretends to be a doctor to his parents to make them contended about their son's achievement. One fine day, Dr. Rama Lingeswara Rao (Paresh Rawal) - dean of the biggest medical college in Hyderabad - exposes the real identity Shankar Dada to his parents. Gravely disappointed, Shanakr Dada's parents vow not to visit their son's place and leave him.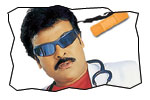 An emotionally wrecked Shankar Dada decides to become doctor in real to teach a lesson to Dr. Lingam and his beautiful daughter Sunita (Sonali Bendre) and at the same time to prove to his parents that their son is a doctor, in deed! The rest of the film is all about how he achieves his twin targets of teaching a lesson to Lingam Mama and how he wins back the love and faith of his parents!
Artists Performance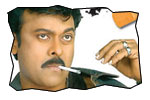 Chiranjeevi: Chiranjeevi displays an unparalleled command over each and every aspect of his authoritative presence on the screen. Be it acting or dances or fights, he excels exuberantly and how! His body language is marvelous and suits the character to the T. Since this film has ample scope for comedy, he brings out his extraordinary comedy timing. The most entertaining bit in the entire cinema is the way he walks (a total bewarse walk) when Srikanth requests him. Above all, what makes Chiranjeevi's performance more memorable in this film is the touching histrionics he dishes out in emotional scenes. Generally, fans do not accept when Chiranjeevi cries. But the story of the film is narrated in such a beautiful way that audience become compassionate about Chiranjeevi when he cries on the screen. There is tremendous response in the theater when he translates Telugu samethalu [proverbs] in English. The way Chiranjeevi interprets 'Sunita' as 'Sun'+'aita' by reading in English is side-splitting.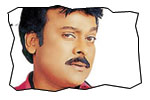 Others: Sonali Bendre is totally cool as the girl who plays hide and seek in disguise with Chiranjeevi. She is the perfect choice for this role and has acted with ease. Paresh Rawal is adequate for the role of righteous doctor who practices laughing therapy and hates the hero to the core. Srikanth has done really well in the role of ATM. There have been certain apprehensions about Srikanth's ability to do ATM role but Srikanth surpasses everybody's expectations and does his job with precision. Rohit as cancer patient is remarkable. Girish Karnad and Venniradai Nirmala are adequate as hero's parents. Venu Madhav, Narsing Yadav & Duvvasi Mohan are fair.
Technical Departments: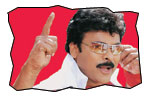 Story: This film is a remake of award winning Bollywood Blockbuster Munnabhai MBBS. It speaks that a doctor should treat his patients with love and compassion, but not with indifferent professionalism. Adequate changes have been made to make this film applicable to all sections of Telugu audiences not leaving behind the masses.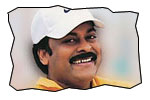 Screenplay - direction: Screenplay by Jayant is adapted from the original. Doing the remake of a critically acclaimed blockbuster from Hindi is a tough task. Jayant succeeded in remaking this film with very good authority. The most important aspect of his direction is canning of emotional scenes that formed the basis of this film. All emotional sequences are very well executed. And at the same time Chiranjeevi's mass image has been utilized appreciably for getting positive results. Jayant has done a great job!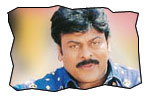 Dialogues: Paruchuri brothers mastered the art of exciting masses with right words. There are wide varieties of dialogues that vary from a mass dialogue like 'Nenu Chitti ki moguduni avuta! Daani babuki Ranku Moguduni avutha' to heart touching dialogues like 'Rogini prematho vaidyam cheyyaleni doctor antakanna pedda rogi'. The following English translation of Telugu samethalu are hilarious:
1. enki pelli subbi chaavuki vachindhi - enki marraige , subbi death anniversary
2. vanda godlani tinna raabandhu… okka tufaanu ki chasthundhi - one vulture eat 100 buffaloes…. one cyclone dead.
3. mundhu undhi musalla pandaga - in front, crocodiles festival
4. illu alakagaane panduga kaadhu - house pasting...no festival.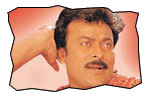 Music: Music by Devi Sri Prasad is cool. Background music is also good. Here is the sequence of the songs:
1. Pattu Pattu: There is no slot for this song in original. But the insertion point of the film is nice and does not look forced at all. Raju Sundaram choreographed this song, which was shot at the luster landscapes of Ooty. This song has Chiranjeevi and Sonali Bendre wearing traditional dress (Sonali's midriff is covered all the time in this song).
2. Shankar Dada MBBS: This is a complete mass song with good steps. This has the entire gang of Chiranjeevi dancing in gay abandon. Ashok Raj choreographed this song. Chiru's movements in the last 30 seconds of this song are extraordinary.
3. Chaila Chaila: This song is pretty good and features Anjala Zhaveri in a flashback item song. The steps are cool. What makes this song more memorable is the sentiment and emotional feel it carries. Chiranjeevi's portrayal of Devadas towards the end of the song is just ultimate.
4. Naa Pere Kanchanamala: This song is item song with Chiranjeevi and Gaur Khan with Rohit being entertained. Pawan Kalyan did a 7-second special appearance while pouring some beer into the mouth of Srikanth. And the appearance of Pawan Kalyan has got the maximum response compared to other responses in the entire film. This song also scores well with the theme of the film as it is meant to entertain a cancer patient whose days are numbered.
5. Ye Zilla Ye Zilla: This is best song in this film in terms of steps and masti. This song is pictured in the sets on Chiranjeevi and Sonali Bendre under the choreography of Raju Sundaram. The costumes and set work are also good.
Other Departments: Cinematography K Dutt is good. Artwork by Ashok is first-rate. Editing by Marthand K Venkaresh is adequate. Stunts by Vijayan are good in patches. The climax fight appears bit forced and dramatic. Production values of Gemini Film Circuit are of good standards.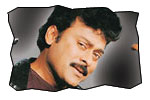 Analysis: The first 15 minutes of the film is mediocre. First half of the film is excellent and is totally entertaining. The second half is good, and has less entertainment towards climax as emotions had to catch up. The emotion in the film starts when Chiranjeevi and his parents visit the house of Paresh Rawal. And the entertainment angle enters the film the moment Chiranjeevi steps into medical college. The plus points of the film are Chiranjeevi's all-round performance, Jayant's handling of emotional scenes, nice storyline, music and comedy. In emotional films, we find less entertainment. In entertaining films, we find less emotion. Here is one film that is blended with both emotion and entertainment in a wonderful way. And this film has something to offer to every cross-section of audiences. 'Shankardada MBBS' is a universal film that would appeal to both classes and masses. With Telugu film industry being in crisis at present, Shankar Dada MBBS would surely bring smiles to the buyers, film industry and most importantly to the audiences. This film has got great repeat value. It is a must watch film!!
Tail Piece: You have seen Pawan Kalyan and Allu Arjun imitating Chiranjeevi in the past. But in this film, Chiranjeevi imitated Pawan Kalyan in a few scenes. Saying 'boss' in his most of the conversation does remind us of Allu Arjun's saying of 'boss' in 'Arya' film.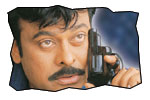 Comparision between Munnabhai MBBS & Shankar Dada MBBS:
Munnabhai MBBS is definitely superior compared to Shankar Dada MBBS. Munnabhai MBBS is a well rounded script with each and every character getting the attention and footage it truly deserves. In Shankar Dada MBBS, the footage and roundedness in characterization for all characters have been given relatively less attention to make Chiranjeevi get the major pie. But the happy news is that Chiranjeevi manages the entire show with consummate ease and story and emotions of the original film are transported into Telugu version in the same spirit.
Shankar Dada MBBS links
Online Tickets
Muhurat
Audio Function
Wall Papers
Photo Gallery
Sreya Audio Review
Mega Posters
Interviews
Chiranjeevi
Jayant: 1 | 2
Release Centers:
India | USA | UK | Singapore | Australia
Jeevi reviews of previous 5 films
Satruvu
Monalisa
Letha Manasulu
Cheppave Chirugali
Sye
More Reviews