Story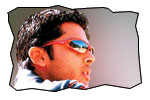 Pruthvi (Nitin) & Sashank (Sashank) are the leaders of two warring students groups in a Hyderabad college. They are fond of Rugby game and they sort the things out between them by playing Rugby to prove superiority. One fine day, a local mafia leader Bhikshu Yadav (Pradeep Rawat) gets a court notice that he has purchased the land of college from its legal heirs. The groups of Pruthvi and Sashank unite together by forgetting differences to fight an united cause of winning back the land for college. After getting affected by assaults of students, Bhikshu Yadav throws a challenge to defeat his team in Rugby play to win back the land for their college. The rest of the story is all about how Pruthvi leads his team to the victory.
Artists Performance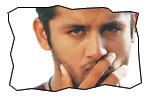 Nitin looks pretty hip with sophisticated looks and different hair-do. He did well in the role of protagonist. But he needs to work harder on his dubbing. Genelia is cool as teen college going girl. She is a treat to watch, but unfortunately has no role to play in story. Sashank is competent as the gang leader. Pradeep Rawat is impressive (credit also should be given for the characterization). Rajiv Kanakala is good in an inspiring role of Rugby coach. Venu Madhav's comedy is hilarious. Tanikella Bharani and Nassar are adequate. Director Rajamouli did a guest appearance.
Technical Departments: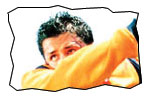 Story: First half of the story deals with gang wars (a la The Westside Story). If Aamir Khan and his team wins cricket match to abolish tax in Lagaan, Nitin and his team win Rugby game to get back the land for their college in Sye. Vijayendra Prasad provided story for Sye.
Screenplay - direction: Taking style of Rajamouli is stylish and trendy. Direction of the film is decent. He is exceptionally good in the introduction scene of the film and canning the Rugby fight at the climax. Rajamouli succeeded in canning all the episodes of Rugby game in a way where everybody can understand the basics of the game. However, Rajamouli could not establish the following points strong enough
1. Why do these two groups (Arts and Science) clash without any proper provocation? The rivalry emotions could not be established.
2. The love thread between hero and heroine.
3. How silly follies by student's gang would trick a big mafia leader.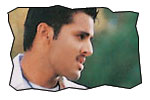 Music: Music by MM Keeravani is good, as usual. He liberally used various English tunes (including that of 'We Will Rock You - Queen' and 'Miss Lova - Shaggy') in background music. All the songs in this film offer wide variety of tunes that range from extreme class (Ganga A/C) to extreme mass (Gutlo Vundi Bellam Mukka). From extreme melodious (Nalla Nallani) to extreme racy (Chantaina Bujjaina)! Picturization of the songs is also good. However, there are no strong situations to place the songs.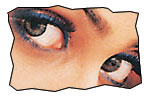 Dialogues: Dialogues by M Ratnam are adequate. There is one good inspirational dialogue in this film that lifts up the mood and spirits of climax - Otami satruvu rupamlo raadu. Bhayam roopamlo manalonunde vastundi.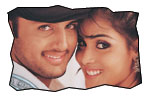 Other departments: Senthil Kumar (who worked for Aithe earlier) did a tremendous job again for this film as the cinematographer. Artwork by Anand Sai is excellent. The locations chosen are good. Producer Giri has produced this film on a vast and lavish scale. Color grading is good. Editing by Kotagiri Venkateswara Rao is adequate.
Hip Stuff: This film definitely broke some barriers (with the help of censor board, ofcourse) by having certain gestures that are unheard/unseen in past telugu films
1. The 'Chantaina' song ends with chorus - Wham bham: thank you maam
2. There are quite a few scenes that have hero and his buddies showing middle fingers.
3. Use the f word directly (Rajiv Kanakala saying ****ing difficult)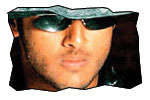 Analysis: The film starts with a terrific episode. First half of the film is slow and little boring. The second half is better. Climax is good. Plus points of the film are Raja Mouli's stylish taking and MM Keeravani music. The main negative point in the film is failing in getting the emotions right till the climax of the film. The box office prospects of this film would depend on how youth embrace this film. This film opened with terrific collections.
Sye links
Rajamouli's chitchat
Audio Function
Photo Gallery
Wall Paperss
Trailers
Jeevi reviews of previous 5 films
Pothuraju
Madyahnam Hatya
Gowri
143 (and i miss you)
Shiv Shankar
More Reviews