Story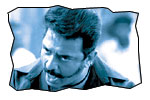 Pothuraju (Kamal Hassan) is an irresponsible villager and a brave warrior. He has a big bank balance and the most fertile farming land in his village. He has no problems in life. Kodanda Reddy (Pasupathi) and Nagama Naidu (Napoleon) are landlords in that village who eye the fertile land of Pothuraju. One day, a murder attempt is made on Pothuraju and Kodanda Reddy's niece Adi Lakshmi (Abhirami) rescues him. He instantly falls in love with her. But something terrible happens later and Pothuraju is framed in a murder case. From here the movie steps into a realm that is totally new with two narrations, by Kodanda Reddy and Pothuraju, of the same events that took place. You have to watch the movie to know more.
Artists Performance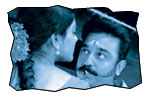 Kamal Hassan is very authentic in the role of a rustic and innocent Pothuraju. He never went over-board in his histrionics and gave a very controlled performance. SP Balasubramanyam dubbed his voice. Abhirami is simply superb in the role of a rustic beauty. Her role is a bit de-glamorized yet very soulful. The dubbing voice given to her is excellent. Pasupathi is amazing as the bad guy. Napoleon also has a vital role, though the duration is less. Nazar is good in his brief role. Rohini is apt for the role of journalist.
Technical Departments: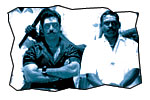 Story - screenplay - direction: The story of the film appears pretty trivial. But what makes this story interesting is the narration. Kamal Hassan used two versions - one each by Pasupati and Kamal Hassan. By placing Pasupati's narration first, he created curiosity to know what exactly happened in the real story. All the doubts would be clarified in Kamal Hassan's version later. Though the same scenes were used for both the narrations, they do not come across as redundant as the second version gives a different perspective. Screenplay of the film is good. Kamal Hassan's direction should be commended.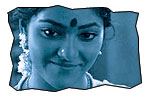 Music: Music by Ilayaraja is a major asset to the film. The music blends seamlessly with the flow and theme of the film to make the audiences get more involved into the narrative. The songs are good and most of them are melodies. These songs transport us to the Ilayaraja's era of 1980s. This is definitely Ilayaraja's best work in the recent times.
Dialogues - lyrics: Dialogues play a vital role in dubbing films. It is very difficult to translate the mood and feel of the film by translating the dialogues with lip sync. Vennelakanti did a spending job translating dialogues that keep the mood of the film intact. Lyrics are also good. One dialogue that transformed the character and attitude of Pothuraju in this film is -
'Kshaminchevadu manishi.
Kshaminchamani adigevadu pedda manishi'

Other departments: Keshav Prakash's cinematography is good. Artwork by Prabhakar is authentic. Fights composed by Vikram Dharma are realistic (except for the jail fight) and make an impact.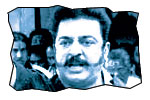 Analysis: 'Pothuraju' is the remake of a Tamil hit 'Virumandi' (released for this Sankranthi in Tamilnadu). First half is interesting. Second half is OK. The climax (jail fight) is stretched beyond the limits. Positive aspects of the film are 2-version narration, actors' performance, Ilaya Raja's music and Vennelakanti's dialogues. Negative points are documentary feel, dragged at times, lack of nativity and the climax fight. All the movie lovers who love watching good cinema (though not a commercial one) should watch this film.
Jeevi reviews of previous 5 films
Gudumba Shankar
Madyahnam Hatya
Gowri
143 (and i miss you)
Shiv Shankar
More Reviews