Story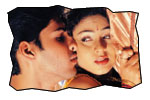 Dyan (Dyan) is a just-graduated youngster. He falls in love with Monalisa (Sadaf), who is born to NRI parents. Monalisa dies in an accident in USA when she visits her parents. A heart-broken Dyan becomes crazy and starts getting addicted to alcohol. His worried parents select a girl for Dyan. A reluctant Dyan okays the alliance without even looking the face of girl for his parents sake. After knotting mangala sutra, Dyan realizes that the bride is none but Spandana, who is an exact look-alike replica of Monalisa. Being a sincere lover he is, Dyan could not forget Monalisa and make love to Spandana because Spandana's looks remind him of Monalisa all the time. When he is about to forget Monalisa and fall in love Spandana, Monalisa resurfaces into his life again and tells him that her death news is a mischief of his father who did not want her to get married to Dyan. The rest of the story is about whom Dyan prefers - Spandana or Monalisa?
Artists Performance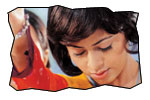 Sadaf: Sadaf did a dual role in this film as fast-paced NRI girl with modern looks and as a demure Indian girl wearing traditional attire. She has western hair-do and dresses for the character of Monalisa and smiled as and when possible to justify the popular phrase of 'Monalisa Smile'. Sadaf wore sarees and sleeveless blouses for the Spandana character. She is good in her own way. Savita Reddy and Sunitha dubbed the voices of Monalisa and Spandana characters respectively.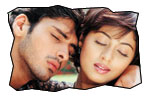 Others: Dyan is OK as chocolate boy with neat looks. However, he is not impressive in emotional scenes. Rama Krishna and Bhavya are adequate as the parents of hero. The comedy track involving Brahmanandam and Kovai Sarala is average. Shakeela character has a bit of vulgarity. The 'Choli Ke Peeche' sequence is over done in the film.
Technical Departments: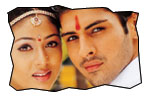 Story: Story of the film deals with the concept love and it's implication towards looks vis-à-vis emotional compatibility. It is about a man not living happily with a girl who is having same looks of his lover. The same concept was explored in a better way in a recently released Telugu remake film 'Ammai Bagundi'.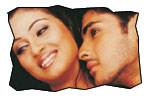 Screenplay - Direction: Director used sleek style of fast cars, trendy sets and youthful atmosphere to narrate this story. Screenplay of the film is average except for a few areas where he tried to evoke some kind of suspense. Director failed to get the emotions right in order to establish the central point of the film in an effective way.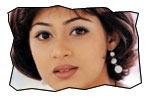 Other departments: Photography by Krishna Kumar is good. Music by Valisha-Babji is average. A couple songs are direct lifts from other languages. One is Hindi private song nari nari (Nishan Abbas) and other one is 'Ding Dong bole' from Kuch Tho Hain film. The background music is OK. Dialogues by Vennelakanti are fair. The production values of Lankesh Chitralaya are pretty good.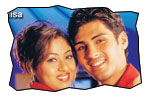 Analysis: Monalisa is Telugu dubbing version of Kannada blockbuster 'Monalisa'. The main plus points of the film are the craze Sadaf has in the youth and the publicity of this film. The negative points are lack of nativity in terms of actors and situations, ineffectiveness in establish the feelings and agony Dyan going through. Songs, comedy and stunt sequences act more like speed-breakers to the narration of the story than catalysts of entertainment. Over all, it is a disappointing film. This film's openings and further collections would depend on how much crowd Sadaf can pull to the theaters.
Monalisa links
Wall Papers
Photo Gallery
Jeevi reviews of previous 5 films
Letha Manasulu
Cheppave Chirugali
Sye
Pothuraju
Madyahnam Hatya
Gowri
More Reviews