Story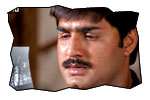 Raju (Srikanth) and Dhana Lakshmi (Kalyani) are childhood friends. They love each other and never express it. As the fate has it, Dhana Lakshmi gets married to another guy. Raju gets married to a rich girl called Bhanu (Gopika). Later on, Dhana Lakshmi encounters a tragedy and becomes a poor widow. She starts doing daily labor to feed herself and her kid. Raju comes across her on a road one day and feels pity after realizing her fate. He gives her a job as a maidservant at his house by hiding the fact to his wife that Dhanalakshmi was his childhood friend. The rest of the film is about what happens if Bhanu comes to know that Raju and Dhanalakshmi were childhood friends and had crush for each other at one point of time.
Artists Performance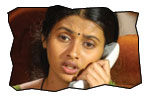 Srikanth appears in a nostalgic mood half of the time and in a pensive mood in the remaining half. He is OK for that role. It is a typical role for Kalyani. She wins the sympathies of everybody, though it is very hard to see and digest Kalyani doing the role of a labor worker and servant maid. Gopika is fair as the wife of Srikanth. Sivaji Raja is adequate as the friend of Srikanth. Raghunatha Reddy and Siva Parvathy did the roles of Gopika's parents.
Technical Departments: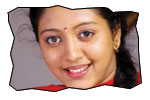 Story: Basic storyline is good. A remake of a critically acclaimed and hit tamil movie "Azhagi", it is a story about a child-hood love and the moments of lingering memories later in life. It is a tender and sensitive story, which would do wonders if handled deftly.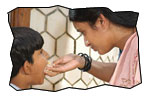 Screenplay - Direction: Screenplay by SV Krishna Reddy is flat. Direction of the film is placid and is devoid of any excitement and entertainment. Narration of the film is pathetically slow. However, SV Krishna Reddy succeeded in keeping a bit of sentimental feel throughout the film in tact. However, the director fails to narrate the sensitive storyline in an interesting way.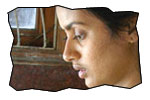 Other departments: Music by MM Keeravani has a few variety and mellifluous tunes. But these tunes are not properly placed and not properly picturized in order to strengthen the feelings and situations of the film. Dialogues by Ramana Chintapally are adequate, but his strength of writing witty one-liners was not used at all. Photography by Sankar is average. Editing by Muthyala Nani is so so.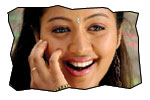 Analysis: The basic story has the feel of a thread from 'Naa Autograph' film and pairing of Kalyani as hero's friend gives it a bit resemblance to Vasantham film. A story with this kind of scope is ineptly handled by SV Krishna Reddy. The village nostalgic episode is handled authentically. The positive point of the film is the sentimental feel that is carried throughout the film. The negative points of the film are lack of entertainment, lengthy narration and TV serial kind of taking. This film's fate would depend on how ladies encourage it.
Letha Manasulu links
Audio Function
Photo Gallery
Jeevi reviews of previous 5 films
Cheppave Chirugali
Sye
Pothuraju
Madyahnam Hatya
Gowri
More Reviews