Story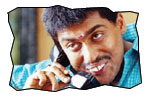 Chanti (Surya) is an ugly-looking hunchback (goonivaadu). Though his appearance is bad, he is very good at heart. He extends his help to everybody he comes across. Kamala (Jyotika) is a blind girl, who seeks the help of Chanti in the troubled time. Karthik (Surya) is a handsome hunk who is in love with Priya (Jyotika), daughter of a police commissioner (Devan).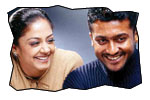 Karthik and Priya decide to elope as Priya's father is against their love. They seek the help of Chanti. In the process, Priya is killed by a criminal. Chanti witnesses this gory incident. However he maintains his silence, as he fears for his life. Karthik is held responsible for Priya's death. Meanwhile, Priya who was a voluntary eye-donor, has her eyes transplanted to Kamala.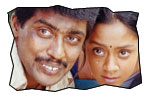 Karthik comes to know about Priya's eyes and visits Kamala. Kamala happens to see Karthik first and mistakes him to be Chanti. Chanti - suffering from inferiority complex - evades from Kamala fearing that she would not accept him in her life because he is hunchback and unattractive. The rest of the story is about whom Kamala weds and how Karthik seeks revenge on his lover's killer.
Artists Performance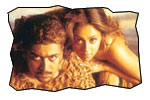 Surya: Surya dons two roles in this film. He generates good amount of comedy with his hunchback role. His body language in hunchback role is pretty comic and funny at times. This role does not demand much of histrionics because of the contrived face (with buck-teeth). However, his body language played pretty good role. Surya is glamorous and manly in the role of Karthik and the final fight is pretty impressive.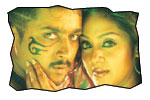 Jyothika: Jyothika does two roles as well. Her role as Priya is a typical glamorous one and quite the opposite in the role of Kamala as a poor blind girl. Unfortunately, Savita Reddy dubbed voice for both these roles. She is good for Priya character that needed urban sophistication. But her dubbing for Kamala character put the role's impact off.
Others: Malavika does an item song and she is good. Vivek's comedy is partly good, lacking the same punch as in the original version. Manorama is good as usual. Devan and Thalaivasal Vijay are adequate.
Technical Departments: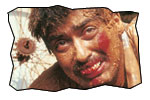 Story - screenplay - direction: Story of the film has a mix of artistic and commercial elements. The director created entertainment out of the physical disability of hunchback character at the same time kept the humiliation of being handicapped intact. The screenplay of the film is OK. Direction is average. The timing and punch of scenes in the film has gone awry.
Other departments: Cinematography by Ratnavelu (Arya fame) is ok. Dialogues by Rajasekhar Reddy are adequate. Music by Yuan Shankar Raja is fair. Action sequences are good (especially the last fight).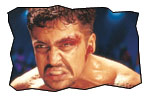 Analysis: The story of the film is good and it has good commercial value. But the main drawback of this film is the poor dubbing by Telugu producers. The emotion, feel and punch of the original 'Perazhagan' is lost in the Telugu version, which makes 'Sundarangudu' a not-so-interesting fare. This film might find some liking in B and C centers.
Sundarangudu links
Photo Gallery
Jeevi reviews of previous 5 films
Kaani
Chanti
Yuvasena
7/G Brindavan Colony
Swarabhishekam
More Reviews