Story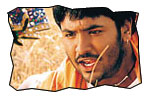 Suryam (Vishnu) is very fond of her mother (Jhansi), who died in a mishap. He grows up having the fond memories of her mother while serving sentence in juvenile jail for a murder he did not commit. His aim in life is to fulfill the last wish of his mother. That is to make sure that his childhood neighbor Swati (Veda) becomes doctor.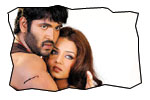 After getting released from the jail, he continues doing contract works of hurting good people for money in order to sponsor Swati's studies. On one such occasion, he goes to jail on the charges of a car accident case so that Madhu (Celina Jaitley) the real person who committed it could be saved. He charges some money for that. Madhu comes to know about this incident and Suryam's flashback. She falls in love with him and decides to change him for good. Since his responsibility of making Swati a doctor is realized, Suryam wants to become a good man. He starts doing things that help the society. In one such incident, he beats up the father of Madhu (Mukesh Rushi). Madhu's father is popular political leader and local don. The rest of the story is about how Madhu's father reacts after realizing that his daughter is in love with a guy who has beaten him up very badly.
Artists Performance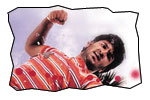 Vishnu: Vishnu is more spontaneous in this film compared to his debut film. He has a stylish body language. This film has given him more scope for comedy and his comedy timing is excellent. The stunt sequences done by him are great. He worked really hard for the role of Suryam and it shows up on the screen. On the flip side, he need to reduce his weight considerably as it is affecting the screen presence to certain extent.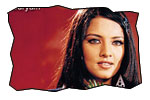 Others: Celina Jaitley is passable for the role of main heroine. Veda is good, but her role is limited. Mohan Babu gave a guest appearance and danced with his son Vishnu for a song. Srinath (Amar) is adequate for a vital role in the film. Mukesh Rushi is becoming monotonous these days, doing the similar kinds of roles repeatedly. Venu Madhav acted as eunuch to generate comedy. Sunil, Brahmanandam and Babu Mohan created some comedy. Kota acted in a role that has mixed shades.
Technical Departments: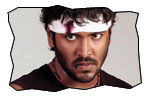 Story: The story of this film is pretty complicated. There are three main threads - sentimental (mother - son), action (Vishnu - Mukesh Rushi) and triangular love (Vishnu - Veda - Celina Jaitley). But the story is not balanced well enough to accommodate all the three threads seamlessly into narration.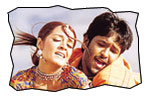 Screenplay - direction: Screenplay of the film is not properly handled. The main content of the film took the back seat as the director tried to promote heroism and martial arts. The flashback episode of mother, which is expected to form a solid platform for mother-son sentimental thread, looks pretty unconvincing. Direction of the film is mediocre.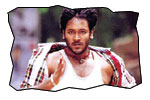 Stunts: Stunts in this film really deserve a special mention. Vishnu exhibited tremendous energy in action sequences. You can see his unflinching thirst to do something different in fights departments. Action choreographer Stun Siva has done a good work. On the other hand, the 15-minute chase scene towards the climax of the film is heavily inspired by the one in 'Enter the new dragon', which was already used in Gowri film in the past.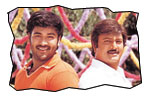 Other departments: Dialogues by Paruchuri brothers are adequate. The comedy dialogues written by Ghatikachalam are in bad taste. Photography by Jayaram is excellent. Music by Chakri is satisfactory. There are three mass songs in this album - Ososi Nanganasi, Endakalamlo and Aaku Muttadi - that are well received. Endakalamlo is the highlight of the film. The background music by Chakri is pretty loud and annoying in mass scenes. The graphics work and color grading of the film are fine. Production values of the film are of high standard.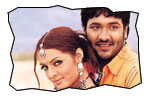 Analysis: First half of the film is OK. But the second half is a let down. The plus points of the film are Vishnu's performance and stunt sequences. The minus points of the film are contrived storyline and old-fashioned direction. The director gave more preference to put as many slots as possible for stunts in the film in stead of concentrating on narrating the story. Vishnu's hard work and talent is going futile because he is not choosing the right script and the right director. All he needs now is a good script and a good director. This film opened with good collections.
Suryam links
Photo Gallery
Press meet
Audio Function
Jeevi reviews of previous 5 films
Sakhiya
Sundarangudu
Kaani
Chanti
Yuvasena
More Reviews