Story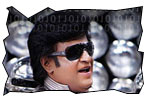 Dr. Vasi is a scientist and he invents a robo who looks just like him. He names it as Chitti. Dr. Bora (Danny) is one of the key persons in robotics field in India and he disapproves Chitti since it could endanger the human lives. Dr. Vasi's girlfriend is Sana (Aishwarya Rai). She treas Vasi kindly. In order to make Chitti compliant to the norms set by Bhora, Dr. Vasi infuses feelings and emotions into Chitti. Chitti starts feeling like a human and he instantly falls in love with his creator's girlfriend. The rest of the story is all about what ensues between the creator and creation.
Artists Performance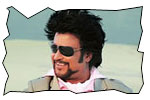 Rajnikanth can create magic as a human hero. Imagine what he could have done if he were a super-robo? The answer is 'Robo' movie. Rajnikanth played two roles of scientist and robot. There are two shades to Robot character - a law-abiding robot and a rogue robot. Rajnikanth changes his body language to suit the style and mannerism of robot in an extremely believable way. Rajnikant entertains you both as law-abiding robo and rogue robo. Director Shankar know how to exploit villainy from Rajnikanth without disturbing charisma and magic he possess. We end up loving the rogue Robo by the end of the movie. Rajnikanth justifies the budget of the movie and he is sure to get more than what the producer invested on the movie with his magic.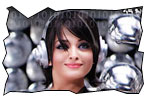 Aishwarya Rai: Aishwarya Rai defied age and marital status in this movie. She looks gorgeous and has got an important role in the movie. Her dances are definitely an asset to the movie. Watchout for her movements in 'Kilimanjaro' song shot in Peru.
Technical departments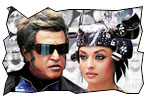 Story screenplay - direction: Shankar is a master commercial director and he makes sure that there are ample commercial elements and conflict points that would appeal to masses. Though Robo is a science fiction movie, Shankar scored the biggest brownie point when he pitted Rajnikant against Rajnikanth. Though it is a story of a relationship between man and machine, Shankar has beautifully showcased the human-side of the machine and mechanical side of the human. The screenplay of the movie is smooth and direction is near perfect. Shankar lets his imagination run wild during the last 30 minutes of the movie and it's spellbinding. Shankar's created Chitti character in such a way that it endearing to watch it's innocence. And you sympathize with Chitti even after it becomes rogue because Shankar has given enough justification for that. Robo is probably one of the very few Indians cinemas where villain is admired and adulated more than hero. The humor episodes of Chitti are rib-tickling. With Robo, Shankar proves that he is the best Indian film director in terms of grandeur, usage of technology and story telling.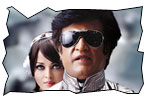 Other departments: Music by AR Rahman is nice, but we expect a better music from a director of his reputation for a film of this stature. Background music is appropriate. Picturization of the songs is excellent Cinematography by Ratnavelu (Arya fame) is grand. Action sequences by Peter Heins and Yuen Woo Ping (Matrix and Kill Bill) are amazing. Visual effects and Robotronics by Stan Winston Studio (Avatar, Iron Man and Terminator) are outstanding. Art direction by Sabu Cyril is grand. Editing by Anthony is good.Production values by Sun Pictures banner are dazzling.
Here is the description of the songs -
1. Neelo Valapu: This song is canned on scientist and Aishwarya in a beautiful foreign locale. Since it's for the scientist character, there are not much of dance movements in the song. However the location and mood of the song is very good. Watching blue water body amidst arid desert is wonderful.

2. Inumulo Hrudayam: It is the first song in the second half. Shankar reserved the best three songs of the movie to the second half. This song comes when Robo expresses its love to the heroine.

3. Kilimanjaro: This song is shot in Peru against the backdrop of world-famous historic site Machu Picchu. The costumes, music, camerawork and Aishwarya Rai's dances movements make this song a special one.

4. Harima Harima: This is the best song of the movie in terms of picturization. Rajnikanth dances along with Aishwarya in his own empire consisting of Rajni-look-alike robo-sepians. Rajnikanth is amazing as he walks with a couple of chained electronic lions.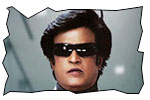 Analysis: First half of the movie is good and interesting. Second half is excellent. The final 30 minutes of action sequences are mind-blowing. Shankar teams up with Rajnikanth to make this logic-defying entertainer that appeals to every movie lover around. The plus points are Shankar's story telling, Rajnikanth's charishma and extremely imaginative special effects/ animatronics. The flipside is that a few number of scenes are logic-less as it is supposed to be science fiction. Robo is the best special effects film ever made in India and is definitely India's answer to Hollywood in terms of both special effections and imagination. Go and watch it.
Tailpiece: I have recently seen the films 'I, Robot' and 'Bicentennial Man' again for the purpose of comparing with Robo movie. I find that 90% of the movie is orginal and imaginative and only 10% is inspired. One such striking inspiration is the dialogue from 'I, Robot' that goes like 'If humans do it, its called Homicide. If machine does it, its called accident'.
Robo Links
• User reviews
• Music launch
Malaysia | Hyderabad | Mumbai
• Trailer launch
• Photo gallery
• Wallpapers
• Trailer
Jeevi reviews of previous 5 films
• Saradaga kasepu
• Komaram Puli
• Don Seenu
• Maryada Ramanna
• Jhummandi Naadam
• Vedam
• Awara
• Andari Bandhuvaya
• Rama Rama Krishna Krishna
• Simha
• Darling
• Prasthanam
• Varudu
• Maro Charitra
• Taj Mahal
• Ye Maya Chesave
• Leader
• Kedi
• Bindaas
• Seetaramula Kalyanam Lankalo
• Om Shanti
• Sambho Siva Sambho
• Namo Venkatesa
• Adurs

More Reviews