Story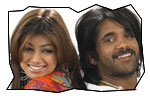 Version 1: Akhil (Nagarjuna) owns a call-cab service. He falls in love with a doctor called Siri Valli (Ayesha Takia). There is a hi-tech robber called Sonu (Sonu Sood) who loots money in a big way. Akhil and Sonu are enemies. Sonu adapts Siri Valli as his sister after the death of Siri Valli's father. When Sonu realizes that Siri Valli is in love with his arch enemy Akhil, he asks her to put an end to the relationship. The rest of the story is all about why Akhil and Sonu became enemies and how they clear the misunderstandings to unite again.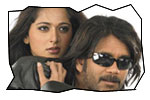 Version 2: Akhil (Nagarjuna), Sonu (Sonu Sood) and Sasha (Anushka) meet in Mumbai in their needy days as unemployed graduates. After a few days, they were forced to steal the money for survival. Then they decide that it is ok to rob the money and make a living out of it. Sasha is the sister of Sonu. She loves Akhil. But Akhil do not have any feelings for her. He treats her just like a good friend. Sasha dies in an unfortunate incident and Sonu holds Akhil responsible for her death. They become enemies. The rest of the story is all about how they clear the misunderstandings and unite again.
Artists Performance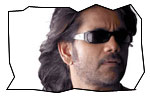 Nagarjuna: Nagarjuna is like Adonis with that long hair. He brought style as well as reckless attitude to that character with his unique portrayal. The way he shakes his hand with Ayesha Takia while seducing her is cool. Nagarjuna should also be commended for his magnanimity of giving fair amount of screen presence for Sonu Sood.
Sonu Sood: Sonu Sood surprises you with his controlled and lovable performance. He is very competitive and the perfect fit for the role. The guy who dubs the voice of Mukesh Rushi dubbed the voice of Sonu Sood. That dubbing artist did a good job.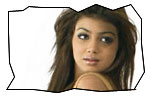 Heroines: It is very difficult to find a heroine who can match the charisma of Nagarjuna. Ayesha Takia is one of very few heroines who complement Nagarjuna's charm onscreen. She has got very good skin complexion and nice physique. She is good in romantic and casual scenes, but appeared bit out of place in emotional scenes and climax episode. Debutant heroine Anushka is good. Her nose ring added bit of sex appeal to her.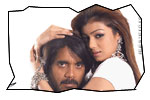 Others: Piyush Misra is adequate as villain. Actor Surya dubbed his voice. The way Surya says 'mama' is hilarious. Sayaji Shinde is good as the honest cop. Ali has got special roles in all Puri Jagan's films. Likewise, Ali got tremendous comedy role in this film as the untalented portrait maker wearing Scottish skirt. Brahmanandam is hilarious in lie detector scene. Sunil has got a good single comedy episode. Khayyum (Ali's brother) has got a fairly big role in this film for which he has done justice. Sumitra and Paruchuri Venkateswara Rao are the only elderly people in this film.

Technical Departments: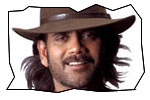 Story: The basic story of the film is about how two friends break apart due to a misunderstanding and how they get back together. Robbery and bike chases have been chosen as backdrop of this film. But the basic point of heroes justifying their robbery by comparing it to the scams and scandals and continuing it does not sound appealing.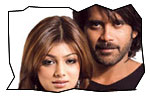 Screenplay - direction: Screenplay of the film is adequate. Puri Jagan tried to generalize situations without getting into details. He successfully engaged the viewers throughout the first half without offering them any story. The flashback episode which unveils the much needed story is not narrated well. He could able to adapt the 'Italian Job' technique perfectly to bring excitement back into the film towards climax. But he did not look into the continuity of locations in real time and flashback episodes. Puri Jagan who always made sure of emotions in his films could not bring the right emotions for this film. When heroes realize who the villains are, they would start helping villains by getting diamonds instead of finishing off them.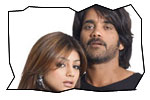 Music: Music by Sandeep Chowta is of party type. Milamila song is the highlight of the film. This is has two locations and two sets of costumes and is the most trendy Telugu song I have seen in the recent times. Gichigichi is a typical bedroom seduction song with lots of intimate moments between Nagarjuna and Ayesha Takia. Mastana (Nag & Ayesha) and Chandramukhi (Nag and Anushka) songs are shot in Mauritius. These two songs are not impressive. The editing cuts in Chandramukhi song are so fast that it taxes your eyes. Akkad Bakkad is also another trendily canned song on Nagarjuna and Anushka. Mudduletti song is good. Background score and rerecording are also impressive.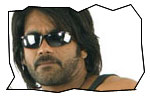 Other departments: Cinematography by Shyam K Naidu is excellent. He used all types of camera angles and cranes to give different perspective to the film. Dialogues by Puri Jagan are adequate. Editing by Marthand K Venkatesh is neat in the first half. But the increased frame rate and rapid editing cuts in the flashback episode make you feel uneasy. 'Italian Job' thrills by Alen Amin and Vijay are first rate. Artwork by Chinna is cool.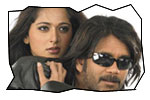 Analysis: First half of the film is smooth. Second half is bit boring. The climax ('Italian Job' in Goa) is impressive. The plus points of the film are Nagarjuna, trendy shot-making and music. The major drawbacks of the film are lack of convincing storyline and lack of emotions. We should appreciate Nagarjuna for spending so much money on a film which is completely different from run off the mill flicks. The thrills in the film should overwhelm the logic to make these kinds of films work. But the thrills are not exciting enough (except for the hero introduction scene and the Italian Job climax). This film also caters to very limited segment - youth crowd from urban areas. On a whole, Super makes an average flick.
Super Links
Press Meet
Photo Gallery
Wallpapers
Audio function
Centers:
UK
Australia
Jeevi reviews of previous 5 films
Kanchanamala Cable TV
A Film by Aravind
Naa Oopiri
Nireekshana
Oka Oorilo
More Reviews