July 31, 2008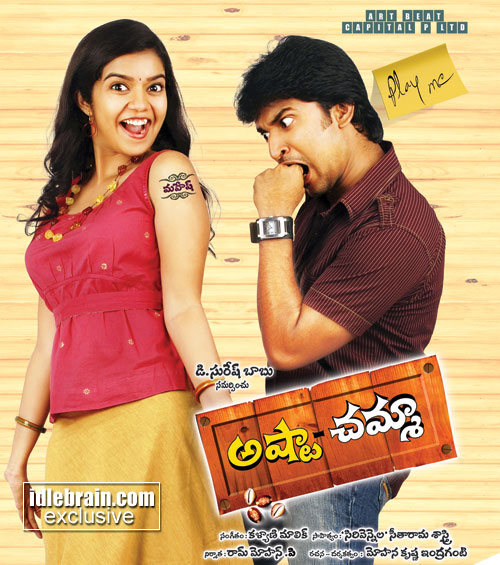 When I walked into the office of Art Beat Capital, I was lucky to catch a glimpse of the audio cover of "Ashta Chamma". The moment I saw it, I knew why this production house is so confident of the film.
Swathi showing off her tattoo with "Mahesh" written on it and Nani staring at it in a complete state of panic! Now who is this "Mahesh?" Why is the hero panicking? What is this confusion?
You flip the CD cover and you see four visuals, which are linked to the songs. The first visual has Swathi siding up to a "Prince" Mahesh poster…???!!!
Writer and Director Mohana Krishna Indraganti says "This is a story of Lavanya, who is completely besotted by Prince Mahesh. Nothing surprising, given that Prince Mahesh Babu is a phenomenon sweeping across women all over the country!! With the Prince finding his Princess in Namrata Mahesh, what will Lavanya do??!!! You have to watch the film for that!"
The producer Ram Mohan says " I have four sisters. I still remember how they turned down so many wedding proposals because they didn't find the name of the groom right!. When Mohan narrated the story, I could immediately identify with Lavanya's angst and dilemma. We are in gratitude to Mahesh Babu and Ms. Namrata Mahesh for consenting to use his name in the context of the film!!!
Wait, the cover carries one name as the presenter of the film. Which he has never done before. Yes, D Suresh Babu, the scion of Suresh Productions banner is presenting the film. Producer Ram Mohan says "Suresh Babu is family to me. This film is a tribute to the years of friendship and love and affection that Rama Naidu garu's family gave to me"
The music CD and Cassette is being released through BIG MUSIC shortly. As per market sources, it is one of the highest prices paid for a 'no star' film. Looks like the audio release through radio stations worked in their favor.
Way to go, "Ashta Chamma"!!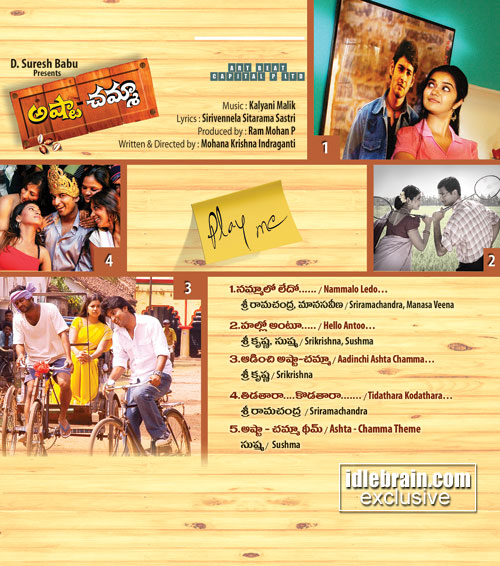 Ashta Chemma links:
Play Ashta Chemma game online
Five questions to the writer Mohan Krishna Indraganti
Swathi - is she the next big heroine?
Introducing Nani in Astha Chemma
Know about Srini Avasarala (another find for Ashta Chemma film