Story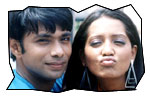 Aditya (Aditya Om) - a successful criminal lawyer - marries a leading Indian pop star Anjali (Meghna Naidu). He wants to kill Anjali so that he could inherit all her wealth. Sailu (Pooja Bharati) a dance bar girl has crush on Aditya. She seduces him and in turn accepts to help him in eliminating Anjali. Mean while, a lady police officer (Swetha Menon) who has been investigating the murder case of a bar owner (Rami Reddy) suspects the role of Aditya and Sailu. She keenly follows them. The rest of the story is about whether Aditya succeeds in murdering his wife.
Artists Performance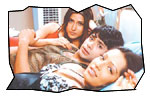 Aditya Om is passable. Meghana Naidu has put on a bit of weight. She exposed in this film to the maximum extent by wearing ultra-short skirts and really deep cleavage exposing tops. And it sounds funny when she talks about true love by wearing such costumes. Pooja Bharati stooped to the lowest levels (pun intended) while doing her character in this film. She vied with Meghana Naidu on the exposing front. Swetha Menon is adequate. Her attires/manners do not suit the profile of any typical cop.

Technical Departments:
Story of the film is about a selfish guy who wants to take advantage of three women. The purpose of the film is to titillate men and hence not much homework was done on screenplay and direction. Music director rehashed old Hindi tunes. Photography is adequate. Dialogues are not up to the mark. Production values are OK.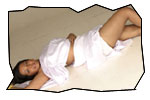 Analysis: This film is made with the sole purpose of attracting men by having two sex bombs doing skin show. Hence it would be a futile exercise to comment about direction, screenplay and other technical issues. There is lot of vulgarity and exposing in this film. The guys who like watching midnight masala on TV may give a try. Others can safely ignore.
Bhama Kalapam Links
Photo Gallery
Meghana Naidu interview
Meghana Naidu stills
Jeevi reviews of previous 5 films
Vamsam
Modati Cinema
Bhageeratha
Premiste
Allari Pidugu
More Reviews