Story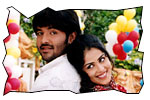 Shankar Goud (Srihari) is a popular don in old city. He dotes on his lovable sister Pooja (Genelia). Srinivasa Rao alias Babloo (Vishnu) is a wayward youngster. He joins as an employee in Shankar Goud's accounts department. There he gets to know Pooja and the inevitable happens. The rest of the story is all about how Babloo plays some mind games to win Shankar Goud's confidence and marry Pooja.
Artists Performance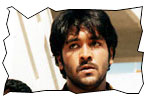 Vishnu: Vishnu's main strength is his spontaneity and the director exploited it to the full extent in this film. Vishnu is home playing the role of Babloo. Vishnu's always took care of fights in his earlier films and ignored the main content. But in this film he seemed to have stuck with the script. In one certain scene he even imitates Mohan Babu in a prank call given to Srihari.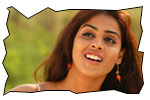 Genelia: Watching Genelia on the big screen gives us a lot of relief as we are fed up with so many new heroines coming in and going out of the industry without leaving any impact. Genelia is exceptionally good and she contributes a lot to the script with peppy portrayal of the character.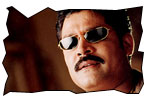 Others: Srihari is very good. His role in this film reminds us of the role he played in Mahanandi. He adds value to the film with his neat work. Brahmanandam and Sunil never entertained the crowds in such a way in recent times. Brahmanandam is superb. The way he refers to Vishnu as 'Rao garu' and then sums up by saying 'Nannu Involve cheyyakandi' is cool. Sunil is excellent. The situational comedy on Jaya Prakash Reddy is also good. Supreet (Katraj of Chatrapati) is competent as villain. Shafi is pretty cool as assassin.
Technical Departments: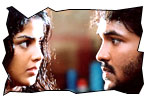 Story - Screenplay - direction: Story of the film is simple and certain part of it reminds us of Mahanandi (don-heroine-hero relationship) and Ranam (mind game). What makes this simple story into enjoyable fare is the screenplay. Screenplay of this film is very good. Seenu Vytla's forte has always been his comedy timing and he made sure that he filled the entire film with entertainment. He has the uncanny ability of creating humor out of nothing and runs it successfully for minutes together. He arranged the content of romance, comedy, action and suspense in such a way that they complement each other. The way hero traces the heroine's place in the climax of the film is pretty intelligent. On the other hand, he made the role of Srihari passive throughout the film which made the movie lose out on action drama aspect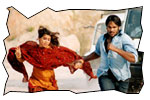 Other departments: Music by Chakri is alright. But it is under promoted. Hence many people would not have heard the music before coming to the film. Dialogues by Kona Venkat are very good. There are neat one liners (Brahmanandam to Sunil: Mahesh Babu milk boy laga vuntadu. Nuvvu milk iche dooda laga vunnav.) and philosophical dialogues (chaavu ante santhi). Prasad Murella's cinematography is fine. Editing by Marthand K Venkatesh is good. Fights are adequate.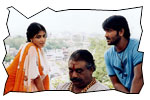 Analysis: First half of the film is very entertaining. Second half is good too. The best part of the film is screenplay. Vishnu is likely to get a commercial break with this flick. Genelia is a plus. The comedy by Brahmanandam and Sunil is spread wisely throughout the film. The major minus of the film is that the Srihari's character is made dumb throughout the film for screenplay convenience. Hence the title 'Dhee' will not be appropriate as it becomes one-sided match. On a whole, Dhee is an entertaining film and is the only film I liked in this year's Telugu releases so far. Hence, I have no second thoughts about recommending it to you..
Dhee links
• Muhurat
• Photo Gallery
• Press Meet
• Trailers
Jeevi reviews of previous 5 films
• Athili Sathibabu
• Jagadam
• Okkadunnadu
• Lakshmi Kalyanam
• Madhumasam
• Maharadhi
• Desamuduru
• Annavaram
More Reviews