Story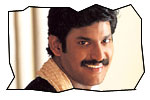 Raghu (Vishal) falls in love with Mythili (Reema Sen) and marries her. Mythili has a neighbor called Viswa (Bharat) who is few years younger to Mythili. She pampers him a lot since childhood as he is a motherless kid. But Viswa starts to develop feelings towards her. He becomes over-protective of her as well. When Raghu and Mythili shift to Goa for job purpose, Viswa also shifts to Goa on the pretext of graduation. Viswa joins the neighboring house of Mythili. He starts helping her out in errands while her husband is away. When Raghu is away from town, Viswa dupes Mythili and takes her away to unidentified destination. The rest of the film is all about how Raghu saves and brings back his wife from the clutches Viswa.
Artists Performance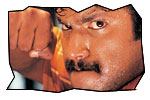 Main Leads: Debutant hero Vishal (son of GK Reddy who produced films like SP Parusuram & M Dharmaraju MA) does well in the role of a leading character. Though a first timer, he is at ease with camera and possesses natural histrionics ability. Reema Sen is sexier in sarees as housewife than as a glamorous heroine in western dresses. There is good amount of scope for performance and she enlivened it up.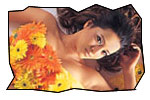 Others: Bharat (Boys & Yuvasena fame) is good as obsessive lover of a girl who is much elder to him. At the same time, he also makes sure that there is a bit of innocence associated with his character. Vivek is entertaining as the friend of Vishal. Venu Madhav's dubbing to Vivek establishes in getting the comedy punches right. Girish Karnad is adequate. Mumtaj & Bhanu Priya did guest roles.
Technical Departments:
Story: This story has strong resemblance to the main theme of mythological epic Ramayana. Vishal, Reema Sen and Bharat enact the roles of Ram, Seeta and Ravana respectively. Our writers say that Ramayana and Mahabharata form the origins of majority of film stories in India. This film is another example.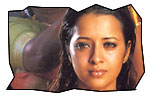 Screenplay - direction: Screenplay by Gandhi Krishna is superior with fast-paced narration. Direction of the film is also good. The first half of the film concentrates on romantic escapades between the lead pair and the second half has a bit of suspense factor about how hero traces heroine.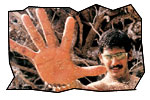 Other departments: Music by Harris Jayaraj is an asset. The tunes as well as background score are good. KV Anand's cinematography is another plus point. Picturization of the songs is good. Wonder why the blue lagoons and the beaches of Andaman Islands are less explored in foreign-locations-crazy Telugu films. The Andaman Islands are well exploited in the second song of this film. The set work is also good. Dialogues by Vennelakanti are adequate.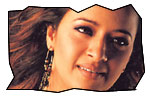 Analysis: The first half of the film is engaging. The second half goes on slow mode. The concept of a guy snatching away heroine resembles us of films like Guna and Nenu. These kinds of storylines (second half) do not go well with regular Telugu film crowds. The plus points of the film are Reema Sen, music and selection of a storyline that involves post-marital life of lead pair. This film being a dubbed one is a disadvantage. The feel of the original Tamil version could not be translated in Telugu effectively. But, you may watch this film at your leisure.
Prema Chadarangam links
Audio Function
Photo Gallery
Reema Sen photos
Jeevi reviews of previous 5 films
Mass (Dammunte Kasko)
Vijayendra Varma
Vidyardhi
Leela Mahal Center
Konchem Touchlo Vunte Cheputanu
More Reviews