EVV makes a sensible decision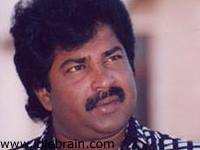 EVV Satya Narayana, who is known the deliver the best comic punch with his film has always has an eye for a catchy titles. He is the one who has come up with crazy titles like 'Alluda Mazaka', 'Chevilo Puvvu', 'Aayanaki Iddaru', 'Jambalakidi pamba', 'Maato pettukoku' etc. Likewise he announced a title 'Pakkintodi Pellam' in march as his forth coming film. This film is going to be produced by EVV cinema that has given 'Chala Bagundi' in the past.
After seeing the adverse reaction from the women, EVV changed his mind and announced that he is going to change the title. This film is going to start on 9th of this month. Naveen and Srikanth are doing main roles. Raasi and Laya are doing heroine roles. With his 'Chala Bagundi', he reinvented LB Sriram. With the new film he is going to give 'Gemini TV' Jogi brothers a silver screen presence by preparing a comedy track for them. The other comedy actors doing this film are Brahmanandam, Mallikharjuna Rao, Ali and LB Sriram. Srinivasa Murthy, a protégé of AR Rehman is going to be debutante music director for this film.Janardhan Maharshi is the dialogue writer. This film expected to be released in February of 2001.
'Maa Manchi Anayya' is the title of Rajasekhar's New film
Bellam Konda Ramesh is remaking a Tamil film 'Vanatha Polai' in the direction of Ravi Raja Pinisetty. Rajasekhar is doing a double role in this this. The other heroes acting in this film include Brahmaji and Vineeth. Maheswari, Meena and Rukhmini are doing female roles.
After a lot of deliberation over titles like 'Kalisunte Kaladu Sukham', 'Mamatala Nilayam' and 'Pandanti Kapuram', finally they haven chosen 'Maa Manchi Annayya'. One of the reasons for this could be the sentimental fact the Rajasekhar has several hits with the titles starting with 'Maa' in the past. They were Magaadu, Manchivaru Maaraju and Manasunna Maraju. This house set in this film is supposed have impressed Chiru and Dr. Mohan Babu. Rajasekhar is pinning his hopes on this film to give him a morale boosting blockbuster.