Nag's second film in Duel role trigged-off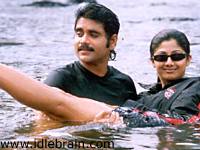 Nag who gave a blockbuster in form of 'Hello Brother' in the past, in which he acted in duel role, is poised to repeat the magic. He new film with Kamakshi films that started yesterday at Annapurna studios will have Nag playing a double role as brothers. This film is having a village backdrop. Soundarya is paired up against elder Nag. A new heroine will act with younger Nag in the film. This film is about a joint family. It discusses the importance of living together. The two brothers in this film have two different sets of goals. The elder one is a pure hearted and younger one is hot-blooded. Both the brother characters will have same getup.
This film is being directed by Jonnalagadda reenivasa Rao, a debutante. Nag, who has the basic instinct to spot the talent, has given a chance to Jonnalagadda upon recommendation from Chota K Naidu. Jonnalagadda worked as assistant director for K Raghavendra Rao, Dasari, Kodandarami Reddy, Ravi Raja and Muthyala Subbaiah. His last film as associate director was Chiru's 'Annayya'. SA Raj Kumar provides music for this film and Photography by Chota K Naidu. Bhupati Raja and Marudhuri Raja give Story and dialogues. Other cast in the film includes Satyanarayana, Nazar, Ranganath, Chandra Mohan. Producer of the film is D Siva Prasad Reddy. The shooting of this film will start on 15th of October and end on 15th of February. This film is slated for March 20001 release.
EVV's new film started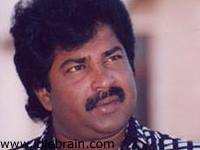 EVV's second film as producer started yesterday at Rama Naidu studios. Rama Naidu, Dasari and Nag did the honors like camera switch on etc. This film's story is about the love angle between wife and husband. It proves that the love between wife and husband is stronger and matured than between two unmarried lovers. Srikanth, Naveen, Raasi and Laya are playing the main leads. Though this is a serious subject, the underlying comedy treat will be provided by Prakash Raj, Kota, Brahmanandam, Jogi brothers, MS Narayana, LB Prasad etc. A debutante heroine Avanti is acting in the film. Srinivasa Murthy, a prodigy of AR Rehman, will provide music for this film. The regular technical team of EVV is working for this film. This film will finish its shooting in December 2000 and will get released in February 2000.
EVV has four Nandi winners for his film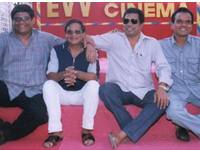 On the eve of EVV's new film muhurat, the four Nandi winners who are going to act in that film posed for a photograph. Nandi winners include Tanikella Bharani, who got award as the best villain in his performance in Krisnavamsi's 'Samudram'. MS Narayana as the best comedy actor for Suman's 'Rama Sakkanodu', LB Sriram as the best dialogue writer for 'Rama Sakkanodu' and Mallikharjuna Rao as the best character actor for his performance in Pawan Kalyan's 'Tammudu'. We have to wait and see how many Nandi award EVV film is going to win.