College - New youth formula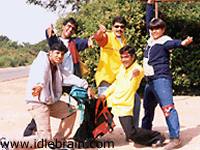 With the unexpected mega success of Bachelors and chitram, the new mantra has been formulated as the recipe for the success. Make a small budget film with realistic approach with new directors with good songs and comedy. This film college is shaping up on those lines. Hero of bachelors 'Sivaji' is main the lead role. And friends of 'Chitram' hero are playing the buddies of Sivaji in this film. Ravi Chavali, who has provided dialogues and story for 'Bachelors' along with co directing that film, is the director of this film. Advertising media man Taranga Subramanyam is producing 'college'. This film has taken 31 days to shoot and getting ready for the release on 9th of November.
It's 'Maa Annayya' for Raja Sekhar
After confirming 'Maa Manchi Annayya', the producer has changed the title to 'Maa Annayya' this time. It was kept by keeping the success of Chiru's 'Annayya' and Balayya's 'Peddanayya' in mind. They had to add 'Maa' in the front to make sure that the title starts with M. In the past, Bhargav arts titled their film as 'Maa Balaju' to make sure that it starts with M. But unfortunately, it failed at box-office. This film is a remake of Tamil hit 'Vanatha Polai', which was bought for a whopping amount of 70 lacs by the producer. It was supposed to be directed by Muthyala Subbaiah. But he was unceremoniously dropped in the last minute to accommodate Ravi Raja Pinisetty. The producer has to pay 12 lacs to Muthyala Subbaiah as compensation. This film is sold for one crore for the Ceded area. Audio of this film was bought for Rs 18 lacs, which is the highest amount for any Raja Sekhar's film. Raj Sekhar is doing the double action in this film.
Nilambari needs no dubbing lessons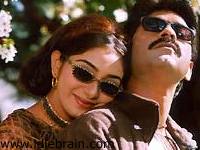 Nilambari, the new heroine on the Tollywood block needs no dubbing lessons. She is doing her debut through Poori Jagannath's 'Baachi' and giving her own voice to her journalist character. Jagapati Babu is doing the role restless special branch police officer. Chanti Addala is producing this film on Srinivasa arts banner. Chakri (a debutante music director) is providing music. A child artist is also playing an important role as fake son of Jagapati Babu. Shooting of this film is completed and it's slated for 9th November release.