Simran prefers Balayya to Chiru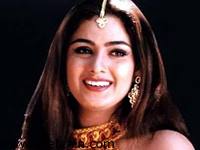 As Soundarya is making sure that she is pleasing one and all with her performance and behavior on the off the screen, the other pretty damsel Simran is showing her true colors after success has gone to her head. Simran made the entire unit of 'Mrigaraju' for ten days, as she is singing her way though the luster locales in Canada for another Telugu film, 'Narasimha Naidu' for Balayya by misusing her dates given for Mrigaraju. An irritated producer K Devi Vara Prasad has taken a bold step by approaching Chennai court. The wheels of justice moved surprisingly efficiently and the Chennai court has ordered that as soon as Simran touches base she must report for the shoots of Murugaraju. Now Simran is happily obliging the request by shooting for Mrigaraju. On the other hand, Soundarya does not even mind not being paid for her performance. She was not paid for her work in Mohan Babu's 'Rayudu'. Still she is a non-complaining lady, who is more interested in grabbing meaningful roles than nagging the producers for benefits.
Venky to debut in Tamil through Supergood films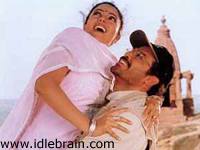 Supergood films, which has remade three films in Telugu with Venky namely Surya Vansam, Raja and Seenu, is dubbing the Telugu 'Devi Putrudu' into Tamil with the title 'Paapa'. And this film will be released both in Telugu and Tamil with 250 prints on 7th of January 2001. On the other hand, two of the bollywood producers have approached MS Raju to buy Hindi remake rights for 1.5 crores. Earlier highest for any Telugu film to be sold for remake was hardly 50 lacs. But the producer, who made his earlier film 'Devi' become moderately successful in Hindi, is bent upon making it big with Hindi dubbed version of 'Devi Putrudu'. But only doubt is about the placing of release date. Jayam Manadera, which is released on 7th of October, will be completed 92 days by then. Jayam Manadera is cruising for 50 days in more than 100 centers. One wonders how two films of Venky, Devi Putrudu, being just release film and Jayam Manadera, being the film about complete 100 days will compete each other. Adding, to this would be scarcity of good theaters as the films by Chiru, Nag, Venky, Balayya and Mahesh would be releasing in a gap of 7 days.
It's Multiplex time in India.
India's first multiplex was inaugurated for Diwali on 26th of October in Mumbai. That multiplex, located in Sion, was having two screens. One screen exhibited Mohabbatein and the other screen exhibited Dinosaur. Twenty days later, the second multiplex in India, is getting ready for the bang start in Ahmedabad. This multiplex with 5 screens is named as 'City Gold'. Three screens of this Multiplex will be opened on 17th of this month for a Telugu director Murali Mohana Rao's film 'Kahi Pyaar Na Ho Jaaye'. Remaining two screens will be opened in December of this year. This multiplex has a total seating capacity of about 1,250. It has a parking space to house 300 cars. Its admission rates are Rs. 80 on weekdays in non-night shows and Rs. 100 on Sundays and in night shows on weekdays. We hope that soon we will have multiplexes coming up in centers like Hyderabad, Vijayawada, Vizag, Rajahmundry and Nellore.