Nag's new film started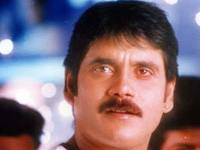 KS Ravi Kumar's 25th film as the director started yesterday in Hyderabad. Nag is playing hero (as an ad director) in this film. Simran and Reema Sen are playing siblings. This film is will be stuffed with KS Ravi Kumar kind of sentiment (Sneham Kosam & Narasimha) and humor (Bhamane Satyabhamane & Tenali). Story of the film is about how a teenage girl (Reema Sen) gets infatuated by her sister's (Simran) husband (Nag). This film is going to be triangular romantic film that culminates into Nag making Reema Sen realize that his love is fatherly love towards her. Nag's the action hero turned hero of sympathetic roles is looking for a change in his image as soft hero with this film realizing that the viewers are falling in love with common man characters. Roja films (Arjuna Raju), that gave films like Kondaveeti Simham in the past, is producing this film. Nag's pet music director MM Keeravani is providing the music. This schedule will take place till 5th of December. Shooting of this film would be completed by 15th of March 2001. Superstar Krishna and evergreen Akkineni Nageswara Rao have done the honors at Muhurat of this film.
It's Kondaveeti Simhasanam for Dasari and Mohan Babu
Dasari has changed the title of his film with Mohan Babu from 'Sardar Nagireddy' to 'Kondaveeti Simhasanam'. The regular shooting of this film was started in Hyderabad yesterday with picturing a song on Mohan Babu and Deepti Bhatnagar in the direction of Laurence. This schedule of the film will be continued till 15th of December. This film will be wrapped up by February 2001. Mohan Babu is playing another Rajni Kant kind of role in this film as the director is playing a soft villain character. Soundarya and Deepti Bhatnagar are playing the glamour dolls in this film. Vandemataram Sreenivas who was initially roped in to compose music was unceremoniously dumped to pave the way for Koti, who gave scintillating music for 'Nuvve Kavali'. Its rumored that the name is changed mainly due to that fact that films with character titles are not running well at box office in this year. Even Venky has to change his film's name from 'Rudrama Naidu' to 'Jayam Manadera'. And Balaiah is also toying with the idea of replacing the title of his forth-coming release from 'Narasimha Naidu' to a soft title.
Balayya in Simhagiri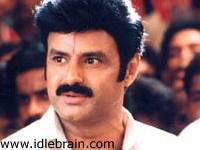 Balayya is busy doing the shooting of 'Narasimha Naidu' at a fast pace. After finishing three songs in Canada with Preeti Jingyani and Simran, he is shooting few scenes in Uttarandhra. They have finished shooting in Korukonda Sainik School and the house of Ashok Gajapati Raju in Vijaya Nagaram. The present schedule is going on at Simhagiri. It's believed that the house of Ashok Gajapati Raju brings lot of luck for Balayya. Even Samara Simha Reddy was shot in the house of Ashok Gajapati Raju. The producer is planning to release this film in the first week of January 2001. B Gopal, who gave three consecutive hits (Lorry Driver, Rowdy Inspector and Samarasimha Reddy) with Balayya in the past, is directing this film
Blue Films Seized In Hyderabad
Hyderabad's East Zone Task Force team raided the offices of two distribution concerns in Secunderabad on 3rd November and seized reels of obscene films. The raid at Spandana Enterprises yielded 72 reels of eight films and posters containing obscene pictures. The police seized 8 foreign films of the 'hot' variety from the office of Sai Kiran Enterprises. The proprietor of Spandana Enterprises and the manager of Sai Kiran Enterprises have been apprehended and booked under IPC and the Indecent Representation of Women Act, 1986.