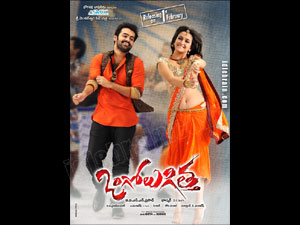 Ongole Githa - Meaning "Ongole" is actually a region which is famous for Zebu OXEN -"SAAND" in Hindi. To justify this movie & title - Ram did Portray as a head strong/stubborn OXEN. Who tried really hard to carry this movie on his shoulder with utmost honesty?
Personally, as a movie lover I enjoy seeing this young lad enact on the silver screen. He puts his heart in to it. I see few glimpse of SRK's junoon (passion) in him. He tries to succeed in whatever project he undertakes. He has matured a lot in his acting and slowly turning in to short hunk of TOLLYWOOD.
Coming to the movie – I saw few resemblance of Chiranjeevi 's Muta Mesthri movie. Of course, cannot compare Young RAM to him thou but he did JUSTICE to his act.
Highlight of this movie was PRAKASH RAJ - His expressions were really impressive. After a long time, I got to see Prakash Raj true art. His impeccable locution was worth watching keenly. My eyes were set on him while he appeared on screen as an agitated human being, who is desperate to maintain his goodwill was remarkable to watch. Glad to see him comeback with this core skills.
Young lady of this movie - Kriti Kharbanda has really done a good job. She deserves a clap for her effort. Mind you, I felt she was a new comer but looking at her record, I was surprised to realize she acted in 8 movies and two famous films like "Ala Modalaindi & Theenmaar" - Too shay to the young lady.
Raghu Babu and Kishore Das are the sidekicks, who really acted well by making me burst in to laughter with the help of ALI. Rest of the Characters in this movie did good and supported the movie with great honesty. I must appreciate the director for justifying every actor in this movie.
On the whole, movie is good and if you have some leisure time go for it along with your family. And I admire the way, one folk song which brought folk culture back in to the movies. It reflected the culture of AP which has been forgotten by many TELUGU citizens.
If, G.V Prakash Kumar and Mani Sharma had put tiny bit of effort on the music composing part - this movie would have rocked. Music in the movie was okay and if we have to consider mass crowd. Then, it would affect the scoring.
My take on this movie before bidding ADIOS -
"2+ hrs well spent without issues of regrets, just wished music should have been improved for mass's to get attracted"
By Vasudhara
bykerusso at gmail dot com
Other reviews by Vasudhara:
• Vishwaroopam
• Matru Ki Bijli Ka Mandola
• SVSC
• Naayak