Story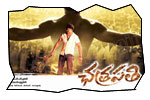 Sivaji (Prabhas), his brother Ashok (Shafi) and mother (Bhanu Priya) are Telugus settled in Srilanka. Due to political problems, they get evicted and return to India 12 years back. During the eviction process Sivaji is separated from his brother and mother. Sivaji reaches Vizag. There is a leader called Baji Rao (Narendra Jha) who exploits these refugees by making them bonded-labor for life. Sivaji turns out to be the leader among the refugees and puts an end to Baji Rao. There by he makes sure that there is no exploitation of refugees. Sivaji is also in constant search of his mother and his obnoxiously-jealous brother. The rest of the story is all about how he wins them back.
Artists Performance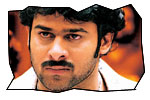 Prabhas: Prabhas arrives with Chatrapati as a force to reckon with in Telugu film industry. He is extraordinary in action sequences. There is a unique style and macho charm in his screen presence. He is extremely good in emotional scenes (involving his mother). His dancing abilities have improved tremendously compared to his earlier films. Prabhas did 100% justice to the title role of the film.
Sriya Saran: Shriya's name appeared as Shriya Saran for the first time on Telugu screen in title cards with this film. She does not have much role to play in this film except for appearing around 5 minutes before the song. She is looking cute and matched Prabhas on screen.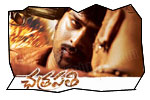 Others: Bhanu Priya is brilliant as mother. Shafi is OK as over-jealous brother. Narendra Jha is impressive as Bhano Ji. Kota has got another well-etched role after Athadu. Pradeep Rawat is good, but is pretty tame in this film compared to Sye. Venu Madhav is simply superb in Aparichitudu rip-off episode. Jayaprakash Reddy did another cameo in a hilarious scene. Sekhar - who acted as buddy of Prabhas - is exceptionally good. He has good future. Mumaith Khan and Arti Agarwal sizzled in two item songs.

Technical Departments: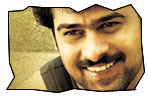 Story: Story of the film has bit of similarities to Scarface (Refugees aspect) and Deewar (Tug of war between brothers). But there is no influence of those films on Chatrapati. First half of the story deals with the Sivaji rising to the ranks of Chatrapati. The second half deals with Sivaji winning back his brother and mother.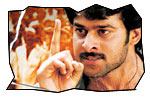 Screenplay - direction: Screenplay of the film is good and direction is tremendous. Raja Mouli's taking is extremely stylish and inserted right punches at regular intervals. All the characters in this film are well defined. The way Prabhas flexes his muscles every time he is provoked is good. Raja Mouli has taken the emotion to the peak with an episode before interval. However, he could not handle the second half of the film with the pace he narrated the first half. By making first half action oriented and second half sentiment oriented, he could not balance the emotional quotient in both the halves. He also handled the sentiment scenes with conviction by getting the emotions right. But Rajamouli should have done justice to the romantic thread between Prabhas and Sriya.
I find the following scenes to be the best -
1. The scene in which he kills a goon of Banoji. (when kid is brutally injured)
2. Venu Madhav's Aparichitudu rip-off.
3. The scene in which Pradeep Rawat spits pawn on the photo which in turn transforms into blood (of Surya)
4. The scene in which Prabhas gets the body of Banoji to Kota and asks him if he want to be his master.
5. The ultimate scene in which Prabhas is bestowed the title of Chatrapati.
6. The hospital scene of Kota.
7. Comedy episode involving Jaya Prakash Reddy.
8. The scene in which Prabhas uses the Kasi water tin to fight.
9. The hospital scene in which Bhanu Priya Chides Prabhas.
10. The house-warming scene in which Bhanu Priya asks Shafi to fix the photo of his brother.
The following scenes should have been avoided -
1. The graphics scenes of Shark in the introduction fight of Prabhas.
2. Venu Madhav's rip-off of Chakram character and claiming himself as sadist.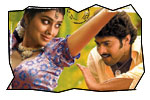 Music: Music by Keeravani is good. The best songs in terms of picturization are ABCD and Summamma Surya. The background music (title song of Chatrapati) of Chatrapati is terrific. Lawrence's steps for ABCD song are great. Mannela Thintivi song has got its own class. The sentiment song Nallanivanni is played a couple of times by representing the bond between mother and son. Background music is also great.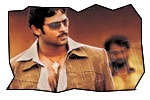 Other departments: Another asset of the film is marvelous cinematography by Senthil. He has got everything right. Dialogues by M Ratnam are good. He has written mass dialogues like 'veedi body ne box office' and 'neeku moodoste lungi voodipovala'. Fights by Peter Hynes are great. Peter Hynes seem to be the fight master in form. He is composing very good fights these days. Editing by Kotagiri Venkateswara Rao is neat. Artwork by Ravindra is also good. Production values by Prasad are extraordinary.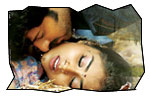 Analysis: First half is excellent with great mass orientation. Second half has more sentimental feel. First half of the film is about how Sivaji raises to the level of Chatrapati. The second half is about Sivaji winning back his mother and brother. Since the first half is dealt with such mass orientation by treating the interval episode just like climax, the crowds expect same kind of mass tempo in second half. But family orientation in second half would dampen the spirits of mass movie lovers. This entire film has Rajamouli's signature written all over it. He narrated the story with uttermost conviction. He is the director in form and everything seems to be going right for him. This film is definitely a good film. The hit range would depend on how much the second half is going to be liked by the movie lovers.
Chatrapati Links
Audio CD launch
Photo Gallery
Wallpapers
Trailers
Interviews
Rajamouli
MM Keeravani
Prabhas
Release centers
AP | USA | UK | Australia
Jeevi reviews of previous 5 films
Political Rowdy
Good Boy
Nayakudu
Allari Bullodu
Mogudu Pellam O Dongodu
More Reviews