Story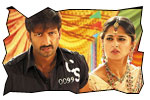 Bose (Jagapati Babu) is a sincere and powerful cop. Chandu (Gopichand) is his younger brother. Shankar (Yashpal Yadav) is a mastermind criminal who evades cops with his knowledge in law. Bose is after Shankar. And Shankar is forced to eliminate Bose. The rest of the story is all about how Chandu takes revenge on Shankar.
Artists Performance
Gopichand: Gopichand has shown tremendous variety in his histrionics. He is extremely casual and gave an effortless performance in romantic episodes with Anushka. He is intense in emotional scenes and his performance in the death scene of his brother is exemplary. He mastered the art of making fights believable. His dancing ability improved in this film and there is fluidity in his dance movements.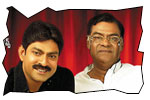 Others: Jagapati Babu has given a very potential performance as an honest cop and as a family man. His role is not a guest role, but a full length character. Jagapati excels as dynamic cop. Anushka is very good as female lead. She adds color to the film with her looks. Yashpal Sharma is commendable as villain. It is a variety role for budding actor Amit. Raghubabu entertains again as the villain's sidekick. Brahmanandam's separate comedy track is relieving though it is loud. The role given to Asish Vidyardhi is different from the roles played by him in the past. Kalyani is adequate.
Technical Departments: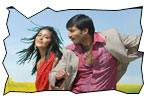 Story - screenplay - direction: Story of the film has little resemblance to Hindi flick Ghayal. But the storyline developed for this film has all emotions. The debutant director Srivas handled the film like an experienced director. He handled the first half adequately by blending comedy, romance, action and family drama. But he could not maintain the same grip in second half and the revenge episodes. The screenplay in first half has some amount of freshness. But the director stuck to old formula while narrating the second half. The shot in which Gopichand shoots cop by sitting on Anushka's two wheeler is well conceived.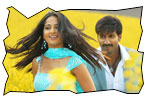 Other departments: Dialogues by M Ratnam are adequate though dialogues written for emotional scenes are way too lengthy. Music scored by Mani Sharma is good, but the placement of songs should have been better. Fights are neat. Cinematography is fine. Editing of the film is smooth. Production values are excellent.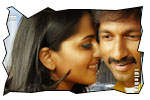 Analysis: First half is entertaining with perfect blend of entertainment and emotion. The tempo goes down a bit in second half because of formulaic narration and predictability in the story. First half is entertaining and second half is heavy with action drama. Debutant director Srivas is competent and handled the film like a veteran. The positive points of the film are terrific performances of Gopichand & Jagapati Babu and the commercial elements. On the flipside, the climax should have been more intense and the runtime should have been more compact. For the commercial point of view, the film is decent. We have to wait and see if Lakshyam hits the target or not.
Lakshyam links
• Gopichand chat
• Anushka chat
• Audio launch
• Press Meet
• Muhurat
• Photo gallery
• Wallpapers
• Trailers
• US schedules
Jeevi reviews of previous 5 films
• Bahumati
• Sivaji
• Dubai Seenu
• COAFM
• Aata
• Srimahalakshmi
More Reviews