Story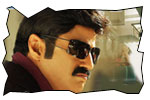 Aditya (Bala Krishna) is a loner who is depressed and he stays in Malaysia. Indu (Priyamani) is the daughter of a billionaire businessman and she studies in Malaysia. Her astrologer back home tells her the attributes of her ideal choice and those attributes meet that of Aditya's. After a few failed attempts, Aditya accepts the proposal of Indu and gets married to her. The rest of the story is all about why Aditya is depressed and is about the real reason behind Indu chasing Aditya and marrying him
Artists Performance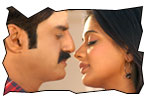 Bala Krishna is pretty handsome as Aditya. He downplayed himself in lots of scenes and did justice to the character. He has very few dialogues in the first half. Priyamani is very good and she got nice footage in the movie. Srilatha got a lengthy character as the friend of Priyamani. Brahmanandam is entertaining as JB Zen (Jana Bethedu Janardhan). Deepak did an important role in this movie after King and Arundhati. Krishna Bhagawan is also entertaining. Ranganadh, Balayya, Chalapati Rao and others are adequate.
Technical departments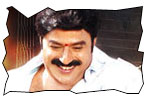 Story - screenplay - direction: Story of the movie is penned by Vijayendra Prasad who penned the stories for all Rajamouli's films. The story is based on astrological predictions and soothsaying. Direction is adequate for the first timer. But he should have injected good commercial payoffs like his mentor Rajamouli. By placing the fate/destiny as the spoilsport, the director couldn't elevate the villain's stature. And due to lack of direct conflict between hero and villain, the commercial payoffs don't happen. Screenplay should have been more compact.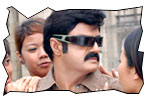 Other departments: Music and background score by Mani Sharma is satisfactory. The family song that comes during flashback episode is good. Dialogues by Ratnam are adequate. Photography of the movie is pleasant. Art direction for the ruined/burnt house during climax is good. Producer Sivalenka Krishna Prasad made this movie with good production values.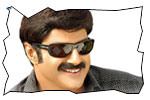 Analysis: Mitrudu is a soft film with not much of punch dialogues and mass sequences. The plus points of the movie are Bala Krishna and a flashback episode. On the flip side, the movie lacks commercial payoffs and the most vital hero-villain direct conflict angle. There is no relevance to the story and the title of the movie. We have to wait and see how the family crowds take it.
Mitrudu links
• Photo gallery
• Wallpapers
• Trailers
• US schedules
Jeevi reviews of previous 5 films
• Circus Circus
• Adhineta
• Punnam Naagu
• Ananda Tandavam
• Billa
• Bheebatsam
• Manorama
• Aakasamantha
• Sontha Vooru
• Malli Malli
• Mesthri
• Naa girlfriend baga rich
• Drona
• 16 Days
• Satyameva Jayathe
• Siddham
• Nenu Devudni
• Konchem Istam Konchem Kastam
• Shh...
• Arundhati

More Reviews