Story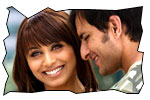 RV (Saif Khan) is a star racer for 'Speeding Saddles' team in New York. He meets Radhika (Rani Mukharjee) and falls in love. They get married against the wishes of Radhika's billionaire father and give birth to a girl and a boy. RV, bad financial planner buys swankiest house, car and furniture on loans and installments. Unfortunately, RV meets with an accident in a car race and stays away from races for a year. Though he participates in races after one year, he still holds a mental block regarding speeding in races and loses. He gets sacked by his team and faces severe financial crunch to pay back his installments and loan payments. The banks auction everything including his house and furniture and the family will be just left with 2k dollars and no roof. The rest of the story is all about how RV and Radhika get back on to the track and how RV emerges as a winner.
Actors performances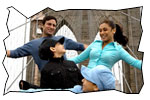 Saif Ali Khan is amazing in the role of RV. He played various characters that of a lover boy, a responsible father, a brash racer and a man with utmost conviction in this film. Rani Mukherjee is sweet and very spontaneous. The Haji Ali and Angelina Irani who played the kids role are great. Javed Jaffery is excellent as the manager of Saif's team. He added some funny accent to his dialogue delivery. Victor Benerjee is good as heroine's father..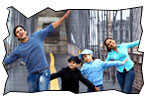 Story: Story of the film is very commercial and formulaic. If Siddhardh Anand heavily borrowed the Hollywood flick 9 Months for his earlier film 'Salaam Namaste', he borrowed threads from a few more foreign flicks to make 'Ta Ra Rum Pum'. The racing aspect and style is borrowed from Days of Thunder (Tom Cruise), losing everything and struggling with the family is borrowed from Cinederella Man (Russel Crowe) and playing 'being poor family reality game' is borrowed from 'Life is beautiful'.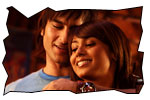 Screenplay - direction: Though the story of the film was inspired by many Hollywood flicks, he made sure that he knitted the entire film with an underlying emotion. More over he communicates the importance of financial planning better than any advertisement of financial brokering firms. Though he narrated a typical formulaic film, he made sure that he has chosen the backdrop of NY and car racing to give fresh and vibrant look. The screenplay of the film is good. The way he kicked off the film in narrative mode given by princess is pretty effective. Some of the scenes in which kids are malnourished are heart touching. Though the film seem to have few dull moments in the second half, the director made sure that the climax is emotional and effective so that the Ta ra rum pum audience will walk out with a happy feeling. Direction of the film is good.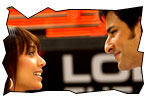 Other departments: Yash Raj films always have great music and this film too is no exception. 'Tararumpum' song is exceptionally good. The choreography for Nachle song is very good. Ab to forever is also very good. Cinematography by Binod Pradhan is excellent. The canning of car races is of Hollywood standards. Choreography by Vaibhavi Merchant deserves special mention. Artwork by Sharmista Roy is vibrant. Dialogues by Habib Faisal are good. Production values by Yashraj Films are grand.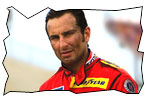 Analysis: The story of the film is very formulaic and it borrows story and treatment from many Hollywood films. The location of New York and the backdrop of car races give different outlook for the film. It is a typical family drama and shows the spirit of a family being together in the testing times. The movie has some dull moments and slow narration. But it wins you over with nice climax. Here comes another racing climax in Hindi films after Jo Jeeta Wohi Sikander. On a whole, Ta Ra Rum Pum is a good film with nice performances and good music. Go and watch it.
Jeevi reviews of previous films
Bheja Fry
The Nakesake
Water
Red
Nishabd
Eklavya
Parzania
Black Friday
Guru
Bhagambhag
Kabul Express
Baabul
Dhoom 2
Vivah
Don
Dor
More Reviews