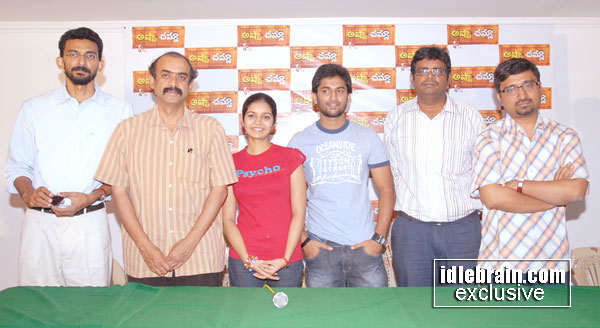 Mohan Krishna Indraganti's film – Ashta Chamma – is going to release on September 5th. The film made on Art Beat Capital banner. Produced by Rammohan and directed by Mohankrishna Indraganti, it has music by Kalyani Mallik. It is presented by D. Suresh Babu (of Suresh Productions). A press meet was held today to announce the release date of the film.
Release on Sep 5 - Suresh Babu
Suresh Babu said: "We are going to release Ashta Chamma on September 5th in 35 centers all over Andhra Pradesh. I am happy that Sekhar Kammula has come forward to take up overseas distribution through his friends in the US. I feel happy in working together with Ashta Chamma team. The film is based on a new strategy. The game – Ashta Chamma – is being promoted through online, video and physically. It will go a long way in developing the gaming industry connecting it to Telugu film industry."
I am releasing Ashta Chemma in USA - Sekhar kammula
Sekhar Kammula said: "I watched the film Ashta Chamma on the request of Mohankrishna Indraganti. The film is full of honesty and there is no hypocrisy anywhere. Its presentation, characterization, songs and everything is more or less nearer to my way of filmmaking. That's why I thought I should something for the film's business. So I asked them to give me the overseas distribution part and they readily nodded to it. I am planning the US release through Touring Talkies distributors. Highlight of the film is non-stop comedy, a different comedy. It is all done with new comers. It has good music too. It is really wonderful."
Best compliment to a director
Director Mohan Krishna said: "I am moved at the compliment of Sekhar Kammula. The best compliment a director like me would ever get is when his colleague would not only appreciate the film, but becomes a part of its promotion."
Male lead Nani said: "With big names like Suresh Babu and Sekhar Kammula associating with the film, its richness got enhanced. I am sure; it will bring good luck to all our team."
Producer Ram Mohan thanked Suresh Babu and Sekhar Kammula for their great support. Heroine Colors Swathi also spoke, thanking the producer and director.
Ashta Chemma links:
• Music launch
• Digital music launch
• Photo gallery
• Play Ashta Chemma online game
• Audio cover preview
• 5 questions to Mohan Krishna Indraganti
• Swathi - will she be the big
• Introducing Nani
• Introducing Srinivas Avasarala