Story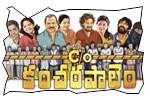 ℅ Kancharapalem is about four love stories that happen in the village of Kancharapalem. These love stories come in different ages starting from elementary school.
Raju (Subba Rao) is a 49 year old bachelor and is never married. He works as an attendant in Government office. Radha (Radha Bessy) works as an officer in the same office.
Sundaram (Kesava) is son of a idol-maker (Kishore) and he studies in a government elementary school. He likes his co-student Sunitha (Nithya Sri) immensely.
Joseph (Karthik Rathnam) works for a local gym owner (Uma Maheswara Rao) and does rowdy job in scaring people away. Bhargavi (Praneetha Patnaik) is a traditional Brahmin girl who falls in love with Joseph.
Gaddam (Mohan Bhagath) works in a liquor shop and he is in love with his muslim customer Saleema (Paruchuri Vijaya Praveena) who buys a quarter of mansion house from his shop everyday.
Rest of the film is all about how these four love stories of different ages culminate in the rural backdrop of Kancharapalem.

Artists Performance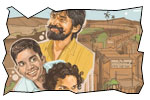 Actors: All the actors have given natural and earnest performances. Subba Rao is extremely genuine and lovable as aged bachelor about whom entire village gossips. Radha Bessy is realistic as an officer from other state who speaks in Hindi. Sundaram is adorable as the kid who admires his girl co-student. Karthik Rathnam is good as wayward youth who wants to be responsible after falling in love. Mohan Bhagath shows honest in love with his performance. Producer Paruchuri Vijaya Praveena dons the most difficult role of a sex worker and impresses with her performance. Nithya Sri is cute as a girl who sings Bhale Bhale Magadivoy song. Praneetha Patnaik is attractive as a dominating girlfriend (reminded me of Anjali in Journey film). Uma Maheswara Rao did the role of a gym owner who is also a good Samaritan. However, it is Kishore who steals the show with his work as a idol-maker with speech issues. We are so much used to films with established actors that it is so refreshing to see a film where actors become characters and vice versa.

Technical departments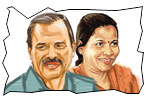 Story - screenplay - direction: Venkatesh Maha makes a terrific debut as director. He has it in him to be a great director as well as entertainer. The writing of the film is organic. Not even a single scene is forced. You smile with the characters. You root for the characters. Entire film is very entertaining. A few emotional scenes in the film stay with you even after you come out of theater. The thread of idol-maker chokes you (terrific writing and acting). The scene in which daughter of lady government officer questions her uncle about maturity level of women is outstanding. The railway crossing scene gives you happiness (reminded me of railway crossing scene in Shiva). The detailing the male characters get into to impress their women is outstanding. The climax of the film gives you a hope and positive feeling. If you observe background music (especially radio songs played in backdrop - golimar song from Donga, Bhale Bhale Magadivoy from Maro Charitra) keenly, you might observe an interesting aspect. But, the climax of the film comes as surprise and hits you very hard! It is a layered film and also addresses caste and religion issues very aptly. Screenplay of the film is excellent.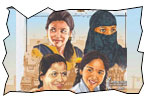 Other departments: Cinematography of the film by Varun Chaphekar and Aditya Javvadi is natural and brims with rusticness. Music by Sweekar Awasthi is very good. Movie starts with a harikatha kind of song (opening titles) which is very meaningful. All songs are good and background music is also good. Sync sound makes the film more realistic. Sound design by Nagarjun Tallapalli deserves a mention. Art direction is excellent and it has much to do with real locations as the entire film is shot in outdoor locations. Dialogues are natural and have some entertainment value too. Editing by Ravi Teja Girijala is smooth. It is so unlikely that a Telugu NRI who is born and brought up in USA picked up such a rural subject as her debut and executed it flawlessly. Paruchuri Vijaya Praveena deserves accolades not just for producing the film and also to act in such a daring character as well. And thanks to Suresh Babu and Rana for backing this project and throwing focus light on the film!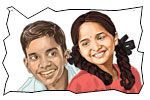 Analysis: Though it's a well made film that has been appreciated in film festivals, director Venkatesh made sure that there is an ample entertainment in the film through dialogues and scenes. Over a period of time, our Telugu film directors have seperated art cinema and commercial cinema so drastically that they became mutually exclusive, This is probably the only film in the past couple of decades where a film can be called as both art and commercial film. I am not a fan of art films and I do personally feel that art films are useless unless they are made to be liked by common moviegoer. That's the reason why you don't find high rating from me on art films as I find them to be pretentious and purposeless. But, ℅ Kancharapalem is a film that I can proudly give a good rating and recommend it to everybody as it entertains and also gives you a hope that you succeed in life despite many hardships. A must watch! And watch c/o Kancharapalem today!!