Bhanumati, Balu & DVS gets Padma awards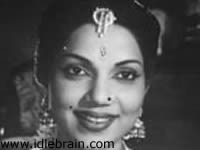 Bhanumati, Thota Tarani and DVS Raju are the latest Padma awardee from the Telugu cinema field. Bhanumati Rama Krishna, who got the prestigious Padma Sri award 36 years back, got another award Padma Bhushan today. And the unfortunate thing is that our own AP Government did not bother to recommend her. It was Tamil Nadu government, which forwarded the recommendation to the center. The famous art director Thota Tarani too received Padma Sri award. SP Bala Subramanyam, The pride of Telugu people too is honored with the coveted Padmasri award this year. The 'Bhishmacharya of Telugu cinema', DVS Raju too is awarded with Padma Sri. The other awardees from our Telugu land include the writer Boyi Bheemanna (Padma Vibhushan) , celebrity mimicry artist Nerella Venu Madhav (Padmasri), worldwide acclaimed dancer Sobha Naidu (Padmasri).
Venky's "Nuvve Naaku Nachaav" started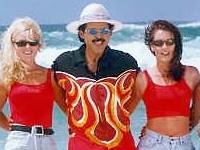 Sravanti Ravi Kishore is making his second film with Venky. The muhurat of this film started today at Rama Naidu studios. Vijaya Bhaskar, who has given the biggest hit of the year 2000, Nuvvekavali, is directing this film. Though this film is made on sravanthi banner, Suresh productions is presenting this film. It is rumored that Suresh Babu is acquiring direct or indirect stake in all the films Venky is acting. Srivanti Ravi Kishore too made 'Nuvve Kavali' film on Usha Kiron banner though it's his brainchild. Richa Sharma or former Miss Universe Yukta Mookhy may act in this film. Asha Saini is acting as the second heroine. Suhasini too is playing a special role in this film. The other actors in this film are Prakash raj, Prithvi, Chandra Mohan, Brahmanandam, MS Narayana, Tanikella, Mallikharjuna Rao, LB Sriram, Sijju, Sudha, Sri Laxmi, Hema and Sudheeva. Trivikram, who gave dialogues for Nuvve Kavali, Cheru Navvuto and Ninne Premista in the last year, gives Story and dialogues for this film. Music is by Koti. Ravindra Babu takes care of Cinematography.
Aswini and Kodanda Rami Reddy combo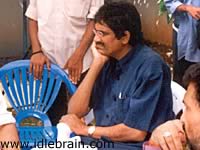 Aswini Dutt is making a film in the direction of A Kodanda Rami Reddy. This Vyjayanti film is going to be made in Kannada with Ravi Chandran as hero. This film is the remake of Telugu blockbuster Chirunavvuto. Shaheen and Devyani are doing the characters that are done by Shaheen and Prema in Telugu version. This film will go on floors in February 2001. Raghavendra Rao's Pelli Sandadi too is going to be remade in Kannada. Raghavendra Corporation that produced the telugu version will produce this film. Ramesh Arvind is playing hero role. Dinesh Babu is the director.