Rajnikant cheated by PV Ranga Rao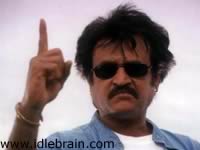 P V Ranga Rao, former Andhra Pradesh minister and son of former prime minister P V Narasihma Rao was Saturday(4th February) arrested by the Hyderabad police in a cheating case. The arrest follows a complaint by Tamil Nadu superstar Rajnikant that Rao had taken Rs 20 million, promising a film Sri Raghavendra Swamy Mahatyam, the police said. Rao's personal assistant Gopala Krishna Reddy who was also involved in the case, has already been arrested, the police added. Rao, a former Congress legislator and education minister, and his personal assistant had approached Rajnikant, a staunch devotee of Raghavendra Swamy of Mantralayam, and won his confidence, posing as devotees, it was alleged. They also requested the star to act in the film. But when he declined the offer, they reportedly pleaded that he at least fund it, the police said. Rajnikant issued cheques last year, but there was neither any trace of any film being made nor was there any word of a promise from Rao for repayment of the money. The superstar recently lodged a complaint with police commissioner P Ramulu, who ordered a probe into the matter.
31st Jan - a Balayya's day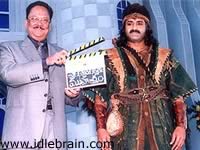 Balayya had a double joy on the day of 31st January. His first special effects janapada film was trigged off on that day morning at 7:56 am. This Kodi directed special film has the best of the technicians in India including Ilayaraja as the music director. Balayya is doing duel role as son and father. This inauguration honours were done by MP Krishnam Raju and veteran ANR. The same day evening, the necklace road was flooded with the fans of Balayya who organized an abhinandana sabha. This function has all the glitter from Telugu cinema in the form of Vijaya Nirmala, Krishna, Bala Krishna, Simran, Asha Saini, K Vishwanath, T Subbirami ReddyDasari, Mohan Babu, Paruchuri Venkateswara Rao, Brahmanandam and B Gopal.
Chakri - a true Chiru fanatic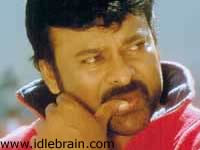 Chakri is one of the best Chiru maniacs in the young actors along with Srikanth, Venu and Tarun. In the recently released film Suri, Chakri did his role as a hardcore Chiru fan. A special song, Kottu Kottu Tenkai, was also pictured to this effect. In his film under production, Akka Bavekkada too, he is playing the role of Chiru's fan. In the past, he missed the opportunity of doing a role of Chiru's younger brother in Annayya because of dates problem. He also started a film called 'Mahatma Gandhi Autobiography' on Varma Banner, in which he was playing the role of Chiru fan. Due to some unknown reasons that film was shelved. Incidentally, three of the Chiru's birthdays were captured on the silver screen. The first one was Appula Apparao, in which the 100 days function of Gang Leader was captured. 100 days function of Gang Leader was done in 4 cities on Chiru's birthday, in which Chiru flew along with his crew to four major centers in AP to cut the cake. The second was the title song scene of Big Boss, which followed a couple of later. Third film to capture Chiru live on his birth day was the scrapped film 'Mahatma Gandhi Autobiography'.