Balayya's Bhargav Arts on 31st January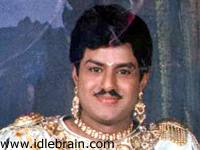 Bhargav Arts that has given mega hits like Mangammagari manavadu, Muddula Krishnayya and Muddula Mavayya in the past with Balayya is starting an ambitious venture with him. This janapada film will be of unique kind and it will be costliest film in the career of Balayya. Muhurat of this film will happen at 7:56 am on 31st of January 2001. According to S Gopal Reddy, this film's publicity will follow right from the day of it's Muhurat day. If we remember right, Bhargav arts did promote their film in the past too by putting up seasonal posters like New Year day and Independence Day while the shooting was in progress. Bhargav Reddy, son of Gopal Reddy, is providing the story. Shooting of this film will be completed by July and postproduction work will take a couple of months. The producer is planning to release this film for Vijaya Dasami in October 2001.
This film would be extensively shot in Jaisalmer, Udaypur and Jodhpur. According to the director Kodi, this film will be in the lines of Benhur, The Last Emperor, Ten Commandments, Brave Heart and Gladiator. Balayya would be doing a dual role in this film. One role would be pretty historical and emotional one and another one of glamorous and jovial nature. Bhanumati Rama Krishna is doing an important role in this film. Pooja Batra and Lisa Ray will do the roles of heroines in this film. Earlier Bipasha Basu was considered. Muthuraj will handle the arts section. Kabir Lal will be the cinematographer. Maestro Ilaya Raja is composing the music. Re-recording of this film would be done in Budapest of Hungary. With so much of happening, this film is surely going to hog all the limelight. Telugu cinema lovers will have continuous feed of special effects, as Devi Putrudu (Jan), Anji (April/May) and Balayya's Janapada film (October) will be releasing with proper gap. However, with the past experience, it may look little doubtful for a mega venture like this to be wrapped up in 10 months.
Another fantasy from Singeetam: Little John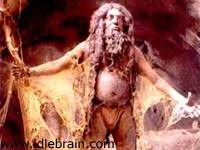 Singeetam Srinivasa Rao is directing a Hollywood venture with Indian backdrop. This film is titled as 'Litle John'. The story of this film is about a swamyji making a foreign handsome tourist into a 10-inch dwarf. The rest of the film is about how he gets back his original shape. Prakash Raj is doing another fantastic role as 'Kala Bhairava'(checkout the image) in this film. He is acting as a man who slept for 6000 years and woke up to find the Little John. Penta Four is doing 45 minutes of special effects for this film. Jyotika is playing the damsel in this film. Praveen Mani, a protégé of AR Rehman will make his debut as music director. This film is being made in Telugu, Tamil, Hindi, Kannada and English simultaneously.
Mahabaleswar Bridge for Mrigaraju: 50 lacs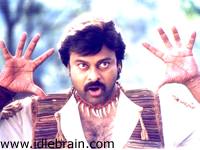 Devi Vara Prasad, who is known for lavishness and magnanimity has surprised the residents and tourists of Mahabaleswar of Maha Rashtra with a major bridge construction for shooting of 'Mrigaraju'. A few graphics shots on Chiru are taking place in Mahabaleswar now. This schedule that started on 28th of this month will finish it's schedule on 9th of December. A duet would be shot on Chiru and Sanghvi between 10th to 13th of December in Maha Rastra. Another song will be shot in Mauritius on Chiru and Simran. Last song will be canned on Chiru and Simran in Annapurna studios just before the release. According Devi Vara Prasad, Mriga Raju will and should release on 11th of January 2001. This film is loosely based on Hollywood film 'Ghost and the darkness'. Prakash Raj is playing father to Chiru. Mani Sharma has given music. Grand daughter of the producer Devi Varaprasad is also acting in an important role.