Nandamuri changes the trend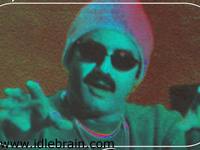 Balayya, who was very archaic in his get-up in the past, has changed his looks. By taking total U turn, Balayya has done crazy stunts and bro kind of dances wearing typical reggae rags. Thanks to PA Arun Prasad, who has given a new dimension to Pawan Kalyan with Tammudu. He is directing a film for Balayya this time that is being produced by Sridevi Arts. Arun Prasad is taking uttermost care in the looks and quality department of Balayya. According to the grapevine, Balayya is making other heores jitter with his extremely good-looking dresses and variety gestures. Have a look at the Balayya image in the picture beside. It speaks for itself. With Anjala Zhaveri and Shilpa Shetty drooling over him, Balayya is poised to make the Telugu viewers go gaga over him!
Changing mustache of Telugu cinema!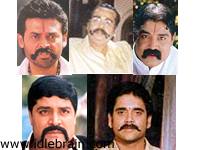 Mustache plays an important role in the hero character in Telugu cinema. And our make up artists have an extra homework to do when their hero is playing a double role. With too many duel role films coming nowadays, heroes are taking precautions to look different. That's too when the age gap between two roles is large. Take the example of SP Patnaik and Ayodya Ramayya in Sri Hari's 'Ayodya Ramayya'. Or look at Narasimha Naidu and Abhiram characters in 'Jayam Manadera'. Or take the twin roles of Nag in forth coming movie by Kamakshi films. Nag is playing as Satya Murthy and Surya Murthy, in which Surya Murthy has a special mustache. Take another example of Dasari from 'Kondaveeti Simhasanam' in which he is playing the guru of Mohan Babu. As the mustache takes the centerstage, our heroes are looking different with each get-up.
Rama Naidu's new production takes off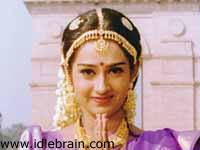 Laya, who earned good name as an actress with her sensible stuff in the past in having a challenging role to play in Rama Naidu's new film. She is acting as a blind girl. This movie is all about how she overcomes her blindness to achieve her noble target. Shooting of this film started today at Rama Naidu studios. Boyina Subba Rao is directing this film. Sai Kiran of Nuvve Kavali is playing the role of hero. Rama Naidu is determined to make this film success by spending his quality time at shooting and completing the film before the next parliamentary sessions. Sri Raj is providing the story. MM Sri Lekha is tuning music. Dialogues are by Satyanand.