Satyanand & Paruchuri brothers: writer wars!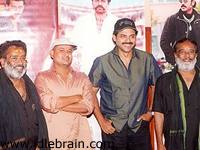 It's time for the writer wars! It may sound unfair to say that the writer belongs to a coterie if he writes continuously for a hero. Satyanand and Pruchuri brothers, for instance, are two of the classic examples. Satyand has given dialogues for Chiru's Annayya and is providing dialogues for 'Mrigaraju' and 'Anji'. He is also signed for the Geeta Arts next film with Chiru. On the other hand, Paruchuri brothers have given dialogues for Kalisundam Raa and Jayam Manadera. And they are also giving dialogues for Devi Putrudu and Vijayalakshmi arts film with Venky. Mahesh Babu too seems to have shifted towards Satyanand for Vamsi and his next cowboy film. Balayya has a special place for Paruchuri brothers in his films as their combination is proved to be deadly many times. Is it fair to say heat is on as two of the popular dialogue writers are confining themselves to one particular hero?
Ganesh turns real hero with Seenugadu
Ganesh, who acted as a comedy artist so far in most of the SV Krishna Reddy films is turning a solo hero with a film called 'Seenugadu'. Ganesh got a break recently with a semi-adult film called 'Please Aunty' in which he is playing the paying guest role in the house of Jayalalita. Neelambari, the heroine of Bachi, will play the female lead in 'Seenugadu'. This film follows the storyline of 'daughter of Master falling in love with the servent' and this film will follow the storylines of the films like 'Swati Muthyam', 'Apadbandavudu' and 'Tarakaramudu'. Shooting of this film took off on Friday at Annapurna studios. Babji, the director of NTR Nagar is directing this film. This film will complete it's shooting in 15 days schedule and it is expected to be released in the last week of February 2001.
Akka Bavekkada - title of Chakri's new film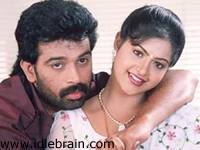 Taranga Subramanyam who made 'Premaku velayara' in the combination of Chakri as hero is producing another film with Chakri in the direction of Raja Vannemreddy. Raasi and Asha Saini are playing the lover sisters of Chakri in this film. Kovai Sarala is acting as mother to Chakri. Satya Prakash is doing the role of villain. SA Rajkumar is providing the music. Rajendra Kumar provides story and Ramesh Gopi writes dialogues. This film will complete shooting by 9th of January and will be relased by end of February 2001.