Nandi awards presented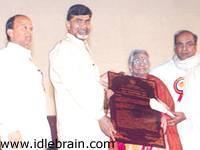 After the hype and hoopla created in this year about Nandi awards function, the real presentation of Nandi awards by the CM Chandra Babu Naidu has taken place in Andhra Pradesh State Cine-TV-Stagecraft Organisation on December 7 at the Lalitha Kala Thoranam, Public Gardens, in Hyderabad. Minister for Home, Cinematography and Film Development Corporation T. Devender Goud presided over the function. Minister for Information and Public Relations and Cultural Affairs N. Sivaprasad was invited as the guest of honor. Akkineni Nageswara Rao, Adviser to the Government on Film, TV and Stagecraft development, and D. V. S. Raju, Chairman of the 1999-Nandi Awards Committee, were the special invitees. Shanta Kumari, yesteryear actress, received the Raghupati Venkaiah Award from Chief Minister Chandrababu Naidu. All other winners received the awards from CM Chandra Babu Naidu. The speakers of the function include actress Shanta Kumari, minister T. Devender Goud, thespian Akkineni Nageswara Rao, hero Venkatesh, Tanikella Bharani and D. V. S. Raju.
Is 'Maa Babu' for real?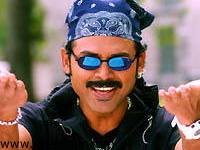 There is been a rumor making rounds that TDP is making a film with Venky as hero on the lines 'Oke Okkadu'. But sources close to Venky revealed that there is no truth in it. Here is some related information! Initially the director cum producer Shankar considered Venky for the role of Purushottam for the film 'Oke Okkadu'. Nobody knows why the deal was not made. At the end of it, Arjun could get that prize role. And the film is made and released. Oke Okkadu turned out to be a super grosser. Piggybacking on the success of Oke Okkadu may prove costly to Venky as it will also reflect he is political biased towards TDP, which can become a cause of disappointment for a section of his fans. Lets wait and see if Venky and Soundarya are going for another victory in the form of 'Maa Babu'.
Will Mahesh act with any Telugu heroine?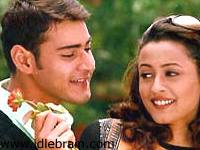 Mahesh, the chocolate hero of Telugu cinema, had three films released, one film underproduction and another film on the anvil. And no Telugu heroine is sported as heroine in any of those films. His heroine list in the past films includes Preity Zinta, Sakshi Sivanand, Simran, Mayuri Kango and Namrata Sirodkar. His present film has dusky lissome lass Sonali Bendre. His next film Cowboy in the direction of Jayant will sport two Mumbai models as the heroines. Another reason for Mahesh not pairing up with our R (Roja, Rambha, Raasi, Ramya etc) may be the fact that they look elder to him. Will any Telugu heroine match up to the charisma of Mahesh?