Director Vamsi to start his second innings
Vamsi, who was introduced as director of 'Manchupallaki' went on to become the most creative director with films like Sitara, Anveshana, Ladies Tailor, April 1 vidudala etc. But he went into oblivion after a couple of miserable flops like Ditective Narada and W/o Vara Prasad Rao Chakri by Varma films. According to the latest grapevine, Vamsi is going to start his second innings with his favorite hero Rajendra Prasad. This film will go on floors in 2001. Sai Kumar will also play a vital role in this film. Vamsi, who likes to spend his time in the wilderness of Yanam, is all set to make his splash again in Tollywood.
Pentafour to make special effects for Manjunatha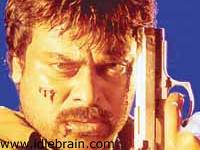 Pentafour Graphics, a chennai based software company, will be doing exclusive special effects for Chiru's Manjunatha. Raghavendra Rao, who made film called Annamayya with Nag, is directing this film. Arjun is playing the devotee of Manjunatha. Soundarya is playing wife of Arjun. Sanghvi too is playing another role in this film. Chiru is donning the title role of Manjunatha (Lord Shiva). A Bangalore based Telugu lady producer Nara Jayasridevi is producing this film. An important scene in the film is going to be a graphics scene in which the Ganga from the head of Manjunatha floods and flows all over.
Vijayakant to enter Telugu cinema field in the direction of Tirupati Swamy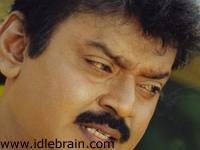 Vijayakant, who has become one of the mass heroes of Tamil cinema, is all poised to make his direct appearance in Telugu cinema by a bilingual. Tirupati Swamy, who has directed films like Ganesh and Azad in the past, will direct this film. KL Sudheesh, a Tamil producer, will produce this film. Mani Sharma will provide the music. Tirupati Swamy would give Story and screenplay for this film. It is learnt that Vijayakant is aiming Telugu field, as his films taste success in B and C centers of Andhra. His Tamil films do a prerelease business of 12 crores.