Tirumala Tirupati Venkatesa is in trouble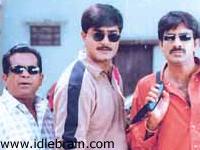 Tirumala Tirupati Venkatesa is in trouble Lots of films are getting stuck at the censors for their objectionable titles. The recent example is 'Assembly Muttadi', which was objected by censor board. It was changed to 'Chalo Assembly'. But the film 'Tirumala Tirupati venkatesa' found an objection from an unexpected corner. A devotee of Lord Venkateswara filed a public petition against this film saying that putting sacred title of 'Tirumala Tirupati Venkatesa' is going to demean and belittle the Lord Venkateswara. As an answer to this, the producer of the film Chanti Addala has recently conducted a press meet and clarified that this film is not a devotional film and it's an entertainment film. The shooting of this film is completed after the picturization of a special song on Prakash Raj. This film is expected to hit the screen on 21st of December. EVV has given screenplay for this film.
Suri to be released on 28th December
After laying low for a while, Editor Shankar directed 'Suri' would be seeing the day of light on 28th of December. Recently three songs of this film were pictured on Chakri and Priyanka in Malaysia. Vidya Sagar is providing music for Suri. Shankar, who worked with Ram Gopal Varma and Krishna Vamsi as the editor is making his debut as director in this film. Tammareddy Bharadwaja, who is directing Ramma Chilakamma with Sumanth, is producing this film. Chakri is pinning his hopes on this film. This film is simultaneously getting dubbed in Hindi as Durga. The hero Chakri provides story, screenplay and dialogues for this film. And Shankar handles editing and direction.
3 songs balance for Narasimha Naidu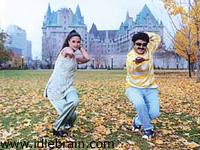 The talkie part is completed for Balayya's Narasimha Naidu. This film is having 3 songs to be shot. First song is being canned at Ooty on Preeti and Balayya since yesterday. This song will take another three day to complete. Another song on Asha Saini and Balayya would be pictured at Hyderabad in a set. The ultimate song would be pictured on simmering Simran and Balayya in Ramoji film city in the first week of January. This film will have director K Vishwanath playing role of Balayya's father. B Gopal is directing this film. Narasimha Naidu is slated for 11th January 2001 release.