Devi Putrudu release postponed to 14th January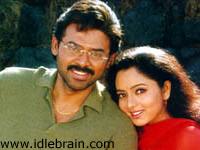 MS Raju, the producer of the special effects film Devi Putrudu, announced today that the release of the film is postponed to 14th of January 2001 from 11th January. He did also mention that there is lot of people spreading roumors that Devi Putrudu is not going to release this month. He warned all of them by stating that Devi Putrudu is going to see the day of light on 14th of January 2001 at any cost. This film is also being simultaneously released in Tamil by Supergood banner with the title 'Paapa'. This film is against the backdrop of the ancient city of Dwaraka, which was in the news because it had sunk overnight due to an asteroid hit. Though this happened over 5000 years ago this news hit headlines very recently. This is the basic thread or inspiration on which the movie is based. Venky is playing the role of an archeologist who stumbles upon the Dwaraka and finds something magical. Another Venky is playing a thief who assists the archeologist to unveil the truth and end the lives of evil forces.
NTR film titled as Ninnu Choodalani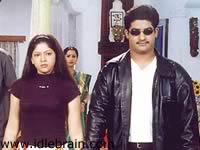 Usha Kiron is introducing the junior NTR as the romantic hero with a film titled as 'Ninne Choodalani'. Raveena Rajput is acting as heroine in this film. VR Pratap, who directed the blockbuster Nuvvu Vastavani, is directing this film. He made sure that his second film too has a title that is similar to Nuvvu vastavani. This film will have its next schedule Shimla from 9th January. Ninnu Choodalani is getting ready for the release in April of 2001. Varma is giving story for this film. SA Raj Kumar is composing music for Ninnu Choodalani
Nutan Prasad receives doctorate
Nutan Prasad, who used to be fondly called by Telugu cinema lovers as 'Nootokka Jillaaka Andagaadu', received the doctorate from Telugu Vishwavidyalayam recently. Nutan Prasad met with an accident when he was on duty for the film 'Bamma Maata Bangaru Baata' in 1989. By that time, he acted in 365 films. After that he acted in 70 films in 12 years. He was recently appointed as the chief executive of 'Ravidra Bharati.
.