Nag's next release on 29th March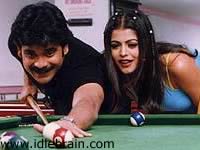 Nag's film with Kamakshi will be released on 29th of March, according to the producer D Siva Prasad Reddy. Hence, we can conclude that the release of 'Aakasaveedhilo' is postponed to July. The latest schedule of this film has taken place in Polachi till 20th of January where two songs were canned on Nag and Soundarya in this schedule along with a few important scenes. Nag is doing a duel role in this film. Soundarya and Shahanaz are pitted against him as the heroines. Sreenivasara Rao is directing this film. Bhupati Raja is giving story and screenplay. Incidentally, this will be the third film in succession for Nag in which he is paired up with Soundarya. Earlier two films being Azad and Ninne Premista.
Kondaveeti Simhasanam release on 4th of May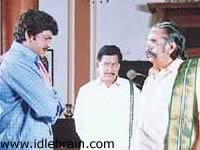 Dasari - Mohan Babu combination film 'Kondaveeti Simhasanam' is getting completed at a brisk pace. The latest schedule is taking place at Nanakramguda Studios in Hyderabad. Soundarya is playing the main heroine role in this film. Other heroines are Deepti Bhatnagar and Laya. Son of Dasari, Arun Kumar too is playing a vital role in this film. Heroine Laya is paired up with him. This film will finish it's shooting in April 2001. And is slated for release on 4th May, which happens to be the birthday of Dasari Narayana Rao.
Chinna to be released in Srilanka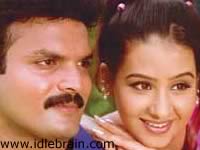 Dasari Arun Kumar's third film as hero, Chinna will be the first Telugu film to be released in Srilanka. Recently the unit has canned three songs on Arun Kumar and Aakanksha in Srilanka. This shooting of this film is completed and postproduction activities are going on. BSS Kumar is going to dub this film in Sinhalese language and release it in Srilanka. This film will be hitting the silver screen on 16th of February 2001. Director K Vishwanath played an important role in this film.