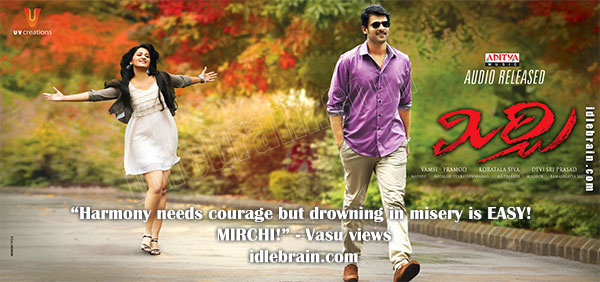 MIRCHI does give heart burn, make you cry but will give you the satisfaction of tastings a good old recipe! Koratala Siva – Director of the movie did justice by directing a movie which conveys a message of HARMONY. Personally, I love it because the movie is close to our culture. Which is just beautiful to watch? The traditional slang of RAYALASEEMA, Attires, and Interiors is just too good! One interesting thing, I noticed was the naturality of characters in the movie. During the GOLDEN Era of NTR/ANR/SVR – we had actors who looked like real life parents, children, grandparents, etc. As time passed, people stopped searching for such actors who resemble each other. "For example – LAVA KUSA movie (NTR/ANJALI DEVI) http://www.youtube.com/watch?v=6lvVNCHhAt0". If you notice, the actors were chosen accordingly and the children had such close feature to their actor parents (NTR/ANJALI DEVI). That's what I noticed in this movie. Every actor resembled as if they were truly related to each other. Now that CREDIT goes to the director Mr. KORATALA SIVA.
Let me take you down the MELODY lane. No movie is complete without MUSIC/LYRICS. As usual, it's not my style to listen to music beforehand. Unless it has a catchy beats because I visualize it and make assumptions. Later, I end up making wrong judgment or loose heart on the movie itself. Accidently, I heard MIRCHI title song which has catchy tune. During the movie, my feet tapped to PANDAGALA song which was a perfect fit as the lyrics represented the story, which was amazing to hear. Of course, how can I not give credit to IDHEDHO BAGUNDHE song which is lovely as well? Devi Sri Prasad has tweaked the melody to fit the movie and its picturization. Hip Hip Hurray DSP!
Coming to PRABHAS – The CHOCOLATE DARLING BOY of TOLLYWOOD! He sure has a loveable heart according to the film industry. He definitely improved his dancing skills as his body molds like a Plaster of Paris! He being the nephew of REBEL star KRISHNUM RAJU has brighten his uncle's name to the DOT! My personal take on PRABHAS – He should stick to ACTION ORIENTED MOVIES ONLY! Which will be a plus point for his career? (Of course, I noticed that his father demise has surely taken a toll on him, it's saddening but that's life).
Lovely ladies Anoushka and Richa brought color/fun/humor/romance to the movie. By the way, our good old Brahmi and Raghubabu acted so well that I enjoyed their humor. Subba Raju, who took the cake in this movie and looked adorable as a lover boy with a "mean masochism personality".
Of course, the big powerful personality in this movie is Actor SATYARAJ. What can I say about him as TAMIL Industry speaks volumes regarding his ability and acting skills? Another actor who matches SatyaRaj was Nagineedu, what an excellent actor who portrays as if he is true rebellious Rayalaseema Dora (Zamindar/Landlord). I totally, enjoy seeing Nagineedu as a father figure - who has the most humble face but can turn in to vicious animal.
Sliding you all back in to the story – Well I must confess that nowadays Movies hardly have stories but they definitely carry a MORAL MESSAGE. Basically, I try finding that one personal connectivity to the movie which brings out the big picture. I found my connectivity but I shall leave you all to find yours. Story might be similar but the emotion hidden in this movie makes this movie different.
By Vasudhara
bykerusso at gmail dot com
Other reviews by Vasudhara:
• Ongole Githa
• Vishwaroopam
• Matru Ki Bijli Ka Mandola
• SVSC
• Naayak