Story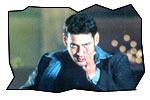 Nandu (Mahesh Babu), an orphan, is a top-notch professional killer in town. He maneuvers his operations with the help of his buddy (Sonu Sood). In one such operation, he falls into the eyes of the cops. While fleeing from the crime scene, he unintentionally becomes the cause for the death of a stranger called Pardhoo (Rajiv Kanakala), a run-away youngster who wants to return home after 12 years. Nandu assumes the identity of Pardhoo and enters his household in a remote village to escape from the cops. The rest of the story is all about how Nandu solves all the problems.
Artists Performance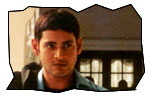 Mahesh Babu: Mahesh Babu is stylish and brilliant as professional killer. He suited the profile of Nandu to the tee. He lives up to his image of Prince Charming with his mesmerizing looks. He transformed smoothly from the character of Nandu to Pardhoo, yet shown the variation in histrionics that come out due to Nandu's guiltiness to impersonate Pardhoo.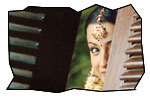 Trisha: Trisha is in her elements in this film with traditional attire and cute mannerisms. The only difference between her characters in Varsham & NVNV and this film is that the voice dubbed by Savitha Reddy is mellowed down a bit, which is good. However, her role in this film is less compared to her past films.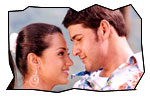 Others: Sonu Sood is perfect. Prakash Raj is adequate as the investigating officer. Tanikella Bharani's get-up and dialogue delivery is different when compared to the roles he is offered these days. Brahmaji is effectively used for a comedy fight in this film. Nassar donned the role of an old man. Frail voice dubbing by SP Balu suited him. Brahmanandam and Dharmavarapu Subramanyam succeeded in creating good humor. Sunil is good as loyal friend. Kota and Sayaji Shinde are adequate. K Viswanath did guest appearance as CBI's local chief.

Technical Departments: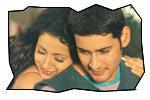 Story: The thread of Mahesh Babu and Sonu Sood seem to have roots in Sylvester Stallone's Assassins. The thread of hero masquerading as some other person has similarities to the storyline of Varasudocchadu. These two threads are interwoven to make this story. The story of this film is entirely different from Trivikram's earlier films as story writer.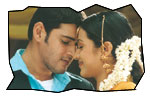 Screenplay - direction: Trivikram is known for his class entertainers that are loaded with sensible humor and nice emotional quotient. He tried something different for this film. The way he opened the film with a tree shot is terrific. You feel like you are watching Ram Gopal Varma's film in the first half an hour. His taking is trendy and stylish. When the scene shifts to village, Trivikram tries to lace in his typical humor. The screenplay of the film is not binding enough to blend these two stories (contract killer story and masquerader story). Nevertheless, he could not hold the similar tempo in the second half. The continuity and logic behind certain scenes is missing.
The following scenes of the film are brilliant -
1. The first shot where kid shoots while serving tea.
2. The rewinding scene in which Mahesh stabs somebody in old city
3. Mahesh's bargain with Kota over telephone
4. Mahesh telling heroine that she is not beautiful
5. Mahesh delivering cash to poojari
6. Mahesh first encounter with Tanikella
7. Mahesh's fight with Brahmaji
8. Brahmanandam comedy episode (nuts & bolts)
9. Mahesh's last encounter with Kota
The following scenes seem to drew inspiration from Hollywood flicks -
1. Hero jumping into train from a skyscraper - US Marshals
2. Brahmanandam jumping through window - Meet the parents
The following logics are unexplained -
1. What made kid turn into a killer?
2. Why would Sonu Sood cheat Mahesh Babu for an amount 5 times more than what he is going to be paid?
3. What happened to Rahul Dev in the kid's episode and why he reveals the names of his protégés in the interrogation?
4. The elders and grandfather readily accepting masquerader even without an iota of doubt.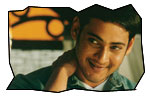 Photography: Photography of the film is terrific. The camera angles, shot framing, lighting effects and camera movements are appropriate to the respective scenes. A tint is used for the first half an hour of the film which made this film appear like the Hollywood films made with Mexican backdrop. Cinematographer KV Guhan deserves a pat on his back for his fine work.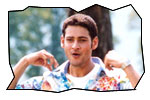 Fights: Fights by Peter Hynes are excellent. All the fights in this film are powerful and natural looking. Only for the fights in climax wires and threadwork was used. Two separate fights involving Tanikella Bharani and Brahmaji have lots of humor injected in them. It is very difficult to make the fights appeal to Andhra audiences when shootout (pistol) is involved. But the shootouts in this film are an exception.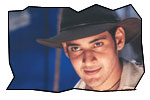 Dialogues: Trivikram is known for his punch comedy dialogues. This film has limited punch dialogues compared his earlier film, which is understandable because this story does not allow more comedy scenes. Still, the comedy dialogues written for Dharmavarapu and Brahmanandam are good. The way Trivikram compared how things appear beautiful when you watch them at the right moments by comparing formation of love to a beautiful moonlight is very thoughtful. His satire on using Sumos in killings is good.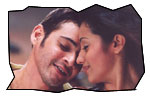 Music: Music by Mani Sharma is good. The picturization of the first song (title song) which comes as background song for titles is wonderful. 'Pilla gaali allari' is a teasing song between the lead pair in house set with other artists participating in. Neetho Cheppana song has got typical Mexican music that is shot in abroad. Lots of bleaching shots were used in this song. The last song 'Pilichina Ranantava' has something for fans to cheer about. However, the songs in this film (except for the 1st song) form as the speed breaker to the narration. Background music and rerecording of the film is good.
Other departments: Editing by Srikar Prasad is good. Lyrics by Sirivennela are very good, as usual. Artwork by Thota Tharani is adequate. Production values by Jayabheri banner are grand.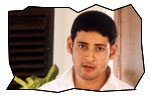 Analysis: The film opens in an extraordinary style. The first half an hour of the film is excellent. The remaining part of the first half is good. The second half of the film is little boring with very slow narration. The positive points of the film are Mahesh Babu, Trivikram's taking, photography, fights and dialogues. The negative points of the film are not being able to blend in two stories well and not able to get the emotions worked out for village scenes in the second half. On a whole, this film is a decent flick for class audiences. The commercial success of the film would depend on how masses embrace it. You may watch it!
Athadu Links
Audio launch
Photo Gallery
Mega Posters
Mahesh Chitchat
Spl Photos
Mahesh Babu
Trisha
Release centers
AP | USA | UK | Australia & NZ | Singapore
Jeevi reviews of previous 5 films
Premikulu
Super
Rendella Taruvatha
Super
Kanchanamala Cable TV
More Reviews