Story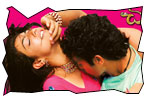 Ranga Rao (Nagababu) is a kind and popular man in a village. He fixes marriage of his city-educated daughter Mahalakshmi (Kajal Agarwal) to a sincere guy from the same village Dorababu (Siva Balaji). But Mahalakhmi has a past in the city where she falls in love with Kishore (Navadeep). The rest of the story is all about how these guys settle the things without hurting Ranga Rao.
Artists Performance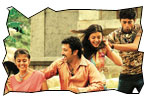 Main leads: Navadeep is brimming with loads of energy in this film. He is completely spontaneous and has nice dialogue delivery. He gave stupendous dialogue delivery in Telangana dialect in drinking scene. Siva Balaji is very good as good-hearted village boy. His getup (extended mustaches) suited him well. Kajal Agarwal is alright in the role of lead heroine. However, dubbing voice should have been better. Sindhu Menon is appropriate and suited the character well.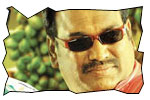 Others: Nagababu gave a mature performance as a loving father. It is Ahuti Prasad who steals the show with impeccable dialect and neat comedy timing. Radha Kumari brings authenticity as a grandmother. Rajesh and Uttej are good. Abhinaya Sri did an item song in this film. Jeeva did an interesting small role as a cop.
Technical Departments: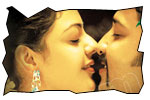 Story - screenplay - direction: Story of the film is plain and simple. There is only one twist in the story that happens due to misunderstanding between the lead pair. Direction of the film is adequate. Screenplay is plain. There is predictability in the film and one can guess what is going to be next scene. Krishna Vamsi followed his own style of having innumerable family members in single frame (like he did in Murari and Ninne Pelladatha).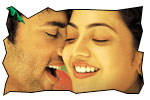 Other departments: Music of the film is average. But might appeal after repeated listening. Picturization of Bugge Bangarama song is pretty creative. The picturization of the Abhinaya Sri song is unappealing. Dialogues are adequate. Cinematography is neat. The backdrop of Hampi ruins is an asset. Producer C Kalyan who always made mass films changed his style and preferred a film with class orientation this time.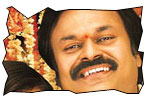 Analysis: Krishna Vamsi attempted a plain and simple story to narrate in a simple style in the format of Ninne Pelladatha and Murari. The major entertainment in this film is provided by Ahuti Prasad and Navadeep. On the flipside, there is no emotional depth which we usually experience in Krishna Vamsi's films. There is no justification for the title Chandamama. Probably director felt that the watching film would be like reading Chandamama katha. On a whole, Chandamama is a love story with family backdrop.
Chandamama links
• Music launch
• Photo Gallery
• Wallpapers
• US schedules
Jeevi reviews of previous 5 films
• Raghavan
• Yamadonga
• SDZ
• Lakshyam
• Bahumati
• Sivaji
More Reviews