Story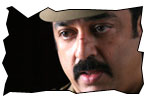 Raghavan (Kamal Hassan) is an efficient and intelligent ACP. Some mysterious men kill Raghavan's colleague Anand Raj's (Prakash Raj) daughter. Serial killings persist and investigations reveal that there is a serial killer behind these murders. Raghavan is forced to leave for New York on this official work. The rest of the story is all about how he solves the mystery behind the killings and get hold of killers.
Artists Performance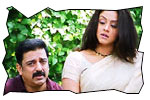 Kamal Hassan gives another stellar performance in this film with his exemplary acting. He looked tough and brought authenticity to his role. Kamalinee Mukherjee did a small role in the film and she is excellent. Jyothika is pretty good as the depressed woman. Prakash Raj is good. Salim Baig (Panda of Gharshana) did a vital role and he suited the character. Lev Gorn is very good as an NYPD cop.
Technical Departments: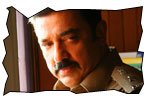 Story - screenplay - direction: The basic storyline of this film resembles the story of Murder by Numbers (2002). The thread of two brilliant students committing serial killings and two cops chasing them is lifted from Murder by Numbers. Screenplay of the film is pretty good. The director has gone into the finer details of the film while making it. The direction of the film is stylish and there is brilliance in shot-making. He followed Mani Ratnam's pattern while writing the romance thread for Kamal and Jyothika.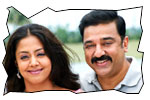 Other departments: Music is nice and picturization is good. Cinematography by Ravi Varman is excellent. Editing by Anthony deserves a special mention. The way he uses diffusion and color transition in the first song is good. Dialogues by Dasarath (Santosham movie director) deserves a special mention. Stunts by Siva are neat. Production values are good.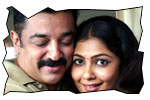 Analysis: The first half of the film is very good. The second half drags a bit because there is not much of story remains once the identity of killers is revealed. Director handled the romance in the film in a matured way. There is no problem of Tamil nativity in this film because the subject is typical Hollywood cop thriller type. The major plus points of the film are director's taking and Kamal Hassan. On the flipside, the serial killing concept of the film might become too serious for a general entertainment seeker. On a whole, Raghavan is a decent film which you can watch at leisure. Box office wise, the film has potential to do well in A centers.
Raghavan links
• Photo Gallery
Jeevi reviews of previous 5 films
• Yamadonga
• SDZ
• Lakshyam
• Bahumati
• Sivaji
• Dubai Seenu
• COAFM
• Aata
• Srimahalakshmi
More Reviews