Story


Jayamma (Smriti Irani) family consists of martyrs of Telangana for three generations. Her son Varshit (Sandeep) falls in love with a girl (Meera Nandan) from Vijayawada. The demand for a separate Telangana resurfaces as their love blossoms. Her parents want to marry her off to a youth politician from Vijayawada. Varshit's friend Chari immolates himself for the sake of separate Telangana state. The death of Chari instigates the youth. Varshit is all out to fight for a separate state. The rest of the story is all about the love between the lead pair and the struggles of Telanagana movement.
Artists Performance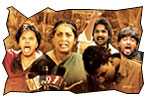 Jagapati Babu donned three roles and he is convincing as Telangana martyr. It is a guest role for him though it is vital to the story of the movie. Smriti Irani is impeccable as the lady who inspires the people around. Gaddar danced for his own song and he is extremely energetic and inspiring on the screen. The guy who did the role of Chari is commendable. The couple who acted as leads (Sandeep & Meera Nandan) and alright. Most of the cast in the film adds freshness (except for AVS, Nagineedu, Janardhan Maharshi, Siva Reddy).
Technical departments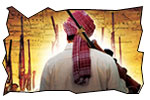 Story - screenplay - direction: This movie has a love story set against the backdrop of the current Telangana movement. Director Shankar who has always been good when it come to capturing social problems made sure that there is an emotion while narrating the real incidents and struggles in the villages of Telanagana. However, the love story is not effectively narrated. He has juxtaposed the TV clippings with the happenings in the movie. Since Telangana is an ongoing problem, the director didn't give any typical climax to the movie, but stated the wish of Telanagana fighters. Making a film on a subject like this is a difficult task. As a director Shankar has succeeded in showing the problems faced by Telangana people in villages. He has also criticized selfish leaders from all areas (including Telanagana).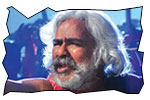 Other departments: Music by Chakri is very good. Jai Bolo Telangana song and Gaddar songs are excellent. The title song was used as background music in key moments. I loved Gaddar's awesome performance on screen in a song. Cinematography is alright. Editing by Kotagiri Venkateswara Rao is fine. Dialogues are well written.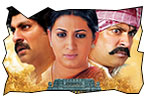 Analysis: Since it is a film made on a burning political issue and since this movie is made to support a cause, I am doing away with ratings for Jai Bolo Telanagana. The film gets interesting after the lead pair visits a village in Telangana. The entire second half concentrates on struggles of Telangana. The love story part of the movie should have been dealt in a more interesting way. However, Shankar made it up with realistic portrayal of Telangana fight in the current scenario. On a whole, Jai Bolo Telangana attempts at realistic portrayal of struggle and mindset of people in Telanagana.
Jai Bolo Telangana Links
• User reviews
• Shankar interview
• Music launch
• Press meet
• Photo gallery
• Wallpapers
• Trailers & videos
Jeevi reviews of previous 5 films
• Ala Modalaindi
• Golkonda High School
• Anaganaga O Dheerudu
• Mirapakai
• Ragada
• Manmadha Banam
• Nagavalli
• Kathi Kantha Rao
• Manasara
• Rakta Charitra 2
• Orange
• Yemaindi Ee Vela
• Kalyanram Kathi
• Rakta Charitra 1
• Khaleja
• Robo
• Saradaga kasepu
• Komaram Puli
• Don Seenu
• Maryada Ramanna
• Jhummandi Naadam
• Vedam


More Reviews