August 23 , 2008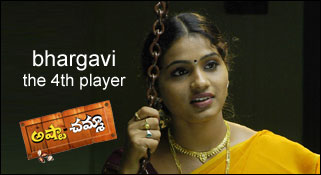 Life is never easy for a struggling Telugu actress. Hailing from a middle class family in Guntur, Bhargavi pursued her goal with single-minded determination in Hyderabad. Starting out with Television, she found her niche in high quality serials from Just Yellow stable like 'Ammamma.com' and 'Amrutham'. She also performs in the popular Zee TV show 'Aata' and has anchored other programs like "Maa Oori Vanta" as well.
Of course, for Bhargavi, cinema is her dream. While working day and night on television, she pursued her dreams and grabbed small yet good roles in films like 'Annavaram' and 'Pandurangadu'.
When 'Astha-Chamma' was looking for the second lead, it was Mohana Krishna who noticed her work in the television series, 'Amrutham' and approached her. Mohan says 'I was looking for a girl who looks very traditional, and also very smart in her retorts to comic situations. The character which Bhargavi plays, is not the stereotypical 'dumb' village belle. She is the smart yet traditional village girl like our village Telugu women really are! When I saw her performance in 'Amrutham', I knew she could easily deliver the goods. And she did prove me right with amazing ease. To match up to the histrionics and comic timing of a Tanikella Bharani or a Hema garu, is never easy. And I am happy to have cast Bhargavi in the second lead".
According to the Producer, Ram Mohan P, "Once we got our lead pair 'in', which was Swathi and Nani, Mohan and I took the call that we will go all the way and cast only Telugu speaking actors. I worked closely with Gunnam Ganga Raju earlier, and I was more than happy that we could cast Bhargavi who worked in their serials. We are delighted with her performance and take great pride that ours is a complete Telugu film!"
To sum up, it takes courage and conviction to go against the tide and give opportunities to Telugu actors. It is good to know that Art Beat Capital and Mohana Krishna went ahead and did that.
We wish Bhargavi the very best in her future.
Ashta Chemma links:
• Press meet
• Music launch
• Digital music launch
• Photo gallery
• Play Ashta Chemma online game
• Audio cover preview
• 5 questions to Mohan Krishna Indraganti
• Swathi - will she be the big
• Introducing Nani
• Introducing Srinivas Avasarala