Chiru donates 10 lakhs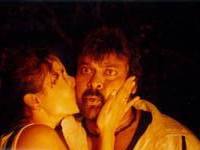 Chiru, who is taking long break at USA for the last 20 days made a small announcement that he is going to donate 10 lakhs for the Gujarat earthquake victims. Half of the amount he donated would go to the amount to be collected by the Telugu film industry collectively. Remaining five lakhs would be routed through the Chiranjeevi Charitable trust. The Bollywood super star Hritik Roshan and his papa Rakesh Roshan announced 10 lakhs each for the Gujarat victims. Sunil Dutt, following the footsteps of Dr. D Rama Naidu announced 10 lakhs from his parliament constituency fund. Meantime, Dr. Rajasekhar celebrated his birthday in a noble way yesterday (4th Feb) by handing over his 3 lakh donation cheque to Governor Dr. Ranga Rajan. He did also arrange a blood donation camp with the help of Chiranjeevi Charitable Trust at Hindi Nagar where his fans donated blood generously. Dr. K Prasad Reddy too tested Two hundred eye patients on this eve.
Jayabheri conformed for Nag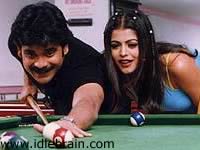 After scrutinizing titles like Jayabheri, Surya Murthy and Eduruleni Manishi, the producers of Nag's next movie fixed upon JAYABHERI. Nag is doing duel role in the film as Surya Murthy and Satya Murthy. Jonnalagadda Sreenivasa Rao is making his debut as director with this film. SA Raj Kumar is providing music. Soundarya and Shehnaz are pair up with Surya Murthy and Satya Murthy respectively. This film is having village backdrop. This film is expected to hit the silver screen on 29th of March 2001. Kamakshi combines that has produced filsm like Allari Alludu, Auto Driver and Seetarama Raju in the past is producing this film. Nag's film would be releasing after 6 months of release of his earlier film Azad (29th September). So all his fans are eagerly waiting for the Yuva Samrat to shake the box office.
Kushi for Ugadi
Pawan Kalyan's next release Kushi is slated for Ugadi release. Though it is an official remake of Tamil Kushi done by the same producer and director, Paawan Kalyan seems to have chipped to add necessary nativity and changed the story line. Pawan Kalyan got extraordinary applause for his earlier flick Badri, despite of having an average story line. Off late, the Pawan Kalyan films are made with uttermost secrecy. And Pawan Kalyan keeps on maintaining a distance to the much sought after press. For the first time, Pawan Kalyan and Chiru would be releasing their films with a gap of one month. And the fans of Chiru are geared up to celebrate the Kushi after the release of the film on Ugadi.