Krishna's Grandson makes his debut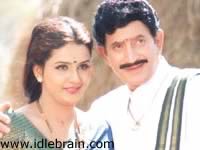 The entire Telugu cinema lovers know a fact that Krishna resumed his direction and started a venture titled 'Pandati Samsaram'. But only few know the fact that Master Ashok, the son of Ms. Padmavathi and the grand son of superstar Krishna, is making debut into Telugu cinema. Krishna, who has developed aversion after the super-flop of 'Manavudu-Danavudu' seems to have developed interest in direction after reading the 6-times modified script by Paruchuri brothers. Prithvi is playing a brother of Krishna in this film. Ravali is paired up with Prithvi in this film. Charu Lata is doing the female lead against with Krishna. TV anchor Suma is acting as the sister of Krishna in this film. Though, this film revolves around the character of Krishna, he preferred to have a family title like 'Pandanti Kapuram' than a title on his character, which shows the magnanimity of Superstar Krishna. In addition to acting, directing and producing this film, Krishna will also act as editor for this film. Idlebrain.com offers three cheers to Superstar Krishna and wishes all the best to his new venture.
Friday falls out of the box-office favor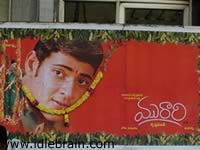 Friday is no more a box-office fortunes day, as the heroes prefer to release their film on non-Fridays. The Sankranthi releases are released on Thursday (11th Jan) and Monday (15th Jan). And the recent release Maa Aayana Sundarayya preferred Saturday to Friday. It is the case with forth coming murari too. Mahesh Babu's first film in the direction of creative genius Krishna Vamsi too would be released on Saturday (17th February). In the last year too, Vamsi and Jayam Manadera are released on odd days. The big question is weather the sanctity of Friday fortunes is shifting? Trade pundits have a tough time with these odd-day releases, as it becomes increasingly difficult to give the correct analysis because of the distributors will to release the collections of the films on Thursday.
Nag proves, again, to be the loyal friend
Nagarjuna proves that sentiments and the present fortune of the individual are no considerations for the friendship. Nag has promised a film for A Kodanda Rami Reddy and he did not go back on his word. A Kodandarami Reddy would direct the next Annapurna's venture with Nag. This crazy combination has given films like Kirayi dada, Vicky dada, President gari pellam and Allari Alludu in the past. But later on A Kodanda Rami Reddy was ignored by the entire industry including creative commercials and Chiranjeevi. Nag, in spite of being on the winning streak with three continues hits preferred to give a chance to the flop director A Kodanda Rami reddy instead of running around with the new sensational directors like other heroes. Kudos to Nag and all the best to A Kodanda Rami Reddy.