Teja hops from E to Gemini camp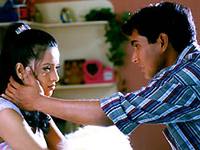 If we take any field, there are only two prime competitors. Likewise, in Telugu cable network too has two main competitors in the form of E TV and Gemini TV. Ramoji Rao of E TV has given a chance to Teja to direct 'Chitram' which went on to become a blockbuster. After that film, he was the storywriter and cameraman for Usha Kiron film's 'Subhavela', an unofficial adaptation of 'The Runaway Bride' in Telugu. Teja was supposed to be instrumental in adding steamy scenes in the film after the film was censored. The reel was seized in Devi 70mm Hyderabad on the day one bringing disrepute for Ramoji Rao. An angry Ramoji Rao has warned Teja not to approach him in the future. Then Teja slyly shifted his base and started his second film 'Nuvve Nenu' with Gemini TV. Unlike Chitram, this film has action angle attached to it. Uday Kiran and Radhika Chowdary are playing main leads. The same technical team that produced Chitram is doing this film too. Kiran who has produced 'Antahpuram' in the past with Krishna Vamsi is the producer of this film.
Chandu hijacked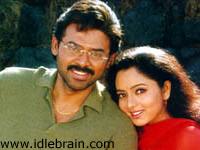 The small time producers are giving restless nights to the big producers. The moment they smell the title or story of the big film under production, small producers to try to cash in the craze. Visitors might be aware that Venky is considering the title Chandu for his next release in the direction of Uday Shankar. But a small time producer Manikyala Rao hijacked this title. He started a venture 'Chandu' in the direction of Veeru K. In the past too, Pawan Kalyan's 'Cheppalani Vundi' was modified and kept as 'Neetho Cheppalani Vundi' for another small time film, which led Pawan Kalyan to change to the title to Kushi. Even Narasimha Naidu was not spared. A dubbed film was titled as 'Commissioner Narasimha Naidu' and was released in the last year. Now we have to wait and see if Venky select another 'Raa' title or not.
Malliswari denies acting in a Telugu film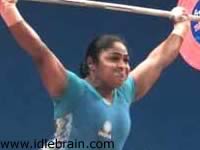 Ramoji Rao has set a precedent by converting the autobiographies of successful women into celluloid masterpieces by making the real people act as heroine in the films. They are Mayuri (with Sudha Chandran) and Aswini (Aswini Nachappa). A stunt master named Tiger Appa Rao tried to emulate the same by stating that Malliswari, the winner of Olympic medal, is acting in his future film titled 'Malliswari IPS'. Though the director has met Malliswari to offer the role, she flatly refused doing it. Malliswari stated that she was approached by lot of producers including the bigwigs of the industry. But she is not interested in acting films.