Krishna without Mustache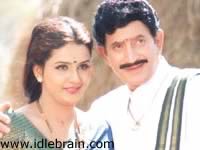 Krishna did act without Mustache in his debut film 'Tene Manasulu'. After a gap of 323 films, Krishna is all set to appear without Mustache in the latest film 'Pandanti Samsaram'. He is appearing without mustache in a duet song pictured on Krishna and Charulatha. Superstar Krishna is donning a special getup for this film. Shooting of this film would be wrapped up by 27th of March. Paruchuri brothers are providing story and dialogues for this film. Jaladi has written lyrics for this film. Vandematharam Srinivas is providing music. Superstar Krishna is taking the onus of editing this film along with production, direction and screenplay just like Krishna Vamsi for Murari.
Megabrothers to fight it out in public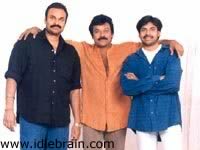 Megabrothers Chiru and Pawan Kalyan are all set to have a power struggle in the public. The cola giants Coke and Pepsi have signed Chiru and Pawan Kalyan for endorsing and acting in the commercial for a period of one year at an amount of 3 and 2 crores respectively. For the fans of megabrothers, these TV commercials will serve as consoling factors as there are hardly any releases of Pawan and Chiru in the recent times. For the first time in the past 7 years, Chiru has tucked in his shirt for the Coke commercial. The other Cola gaint ThumpsUp, which is a sister concern of Coke has already associated itself with Venky by endorsing the film 'Jayam Manadera'. Can we expect a triangular Cola war in Andhra amidst Chiru, Pawan and Venky? For the starters, Thumps Up, Coke and Pepsi have selected Salman, Hrithik and Shahrukh respectively as their cola icons Bollywood.
Krishna Prasad thanks Balayya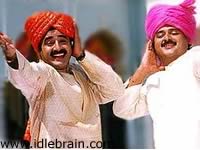 Krishna Prasad of Sridevi arts did approach Balayya to save him the debt trap when his earlier film 'Anaganaga Oka Ammai' sank with out a trace at box-office. Being a kind-hearted hero, Balayya allotted dates to Sridevi arts in just two months after Krishna Prasad met him. At that time, Balayya dates were full for the next two years. But Balayya gave priority to Sridevi arts film. And the stupendous success of Narasimha Naidu paved the way for the producer to sell 'Bhalevadivayya Basu' at a handsome margin. It may be noted that Balayys does not repeat his producers except for Bhargav Arts, Sridevi Arts and his home production Ramakrishna Horticulture. In this film Sudhakar is playing a role that is as important as hero's. Shilapa Shetty is playing forest ranger and Anjala Zhaveri is doing the role of a tribal woman. Balayya plays forest officer.