Roja plays mother of six kids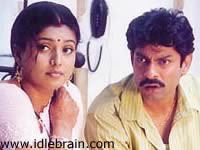 "Nooru Mandi pilla paapalatho Kshemamga Vardillu Talli" used to be the good wish the elders bestow upon the married women who come to seek their blessings. Times have changes and we have come to a stage where the Government says 'One or None'. Our filmmakers are restricting the children size to four in the films, at most. In Narasimha Naidu and Murari, Balyya and Mahesh Babu plays the role of fourth and last son. But Teja has gone a step ahead and is sporting six kids to the character of Roja in the film 'Family Circus'. This film is all about three families being played by Jagapathi Babu, Roja, Rajendra Prasad, Jhansi (TV Anchor), Brahmanandam and Kovai Sarala. Melody is producing this film. RP Patnaik is the music director.
Art director Raju wields mega phone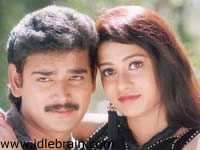 BBC films (not related to British broadcasting) has completed the shooting of their film 'Ade Neevu - Ade Nenu'. Now they realized that the title is not suitable for the subject and changed it to another lyrical title 'Andala O Chikala' Art director is turning director into this film. He recently canned a special song in which cream of Tollywood made a special appearance. Audio of this film is releasing on 10th of March and this film is slated for release in April. Dhanush and Siri are making their debut in this film. Ghantadi Krishna provides music. The other cast of the film includes Prakash Raj, Bharani, Brahmanandam, Uttej, MS Narayana, Ali and LB Sriram.
MS Raju plans come to a stall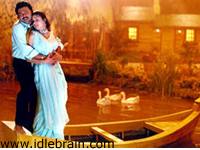 "Think big" seems to be the motto of MS Raju, who announced that Devi Putrudu would collected a share of 25 crore before the release only to find that with in fifty days all the vital scenes are shown in TV commercials to attract the viewers. Actually, he planned that Devi Putrudu would release on 11th of January and he would start another project, Aadi Seshu with Venky on his birthday on 10th May, which also would be the 100th day of Devi Putrudu. All these plans have gone haywire with the postponement of the release of Devi Putrudu by four days. So does the fate of the film too changed. Now MS Raju is planning another special effects film Vijaya Dasami with a normal star cast. We have to wait and see if Venky dole out dates for Adi Seshu project after the success of Vijaya Dasami.