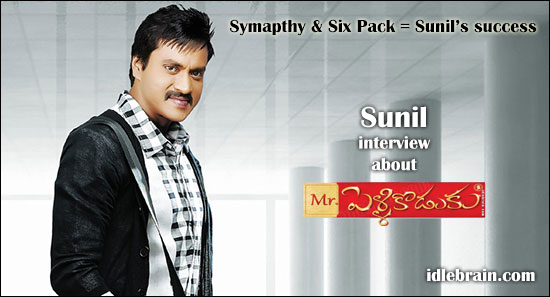 28 February 2013
Hyderabad
Sunil entered the film industry as comedian and has establishes as hero. He is probably the only hero who mixes sympathy with six-pack and still gets admired by the audiences. Sunil takes a lot of personal care in selecting and making movies. That's why all his films (except for RGV's Appalraju) are hits so far. There is so much contribution from Sunil at personal level. Here are excerpts of idlebrain.com exclusive interview with Sunil -
Tell us about the box office result of Poola Rangadu?
I always feel that fights, comedy and dances will make masses watch movie again and again. Poola Rangadu film has Andala Ramudu kind of character in Maryada Ramanna kind of premise. I made sure that fights, comedy and dances are highlighted without disturbing content. Nobody believes when Sunil hits villain since audiences have seen me as a comedian with fat appearance for the past one decade. Hence I had developed 6-pack to prove my genuinely. My 6-pack has brought believability to climax fight in Poola Rangadu. I am weak with numbers; hence I can't tell you the collection figures. But it's a very good profitable film for the producer, distributors and exhibitors.
How did Mr Pelli Koduku happen?
It was Nallamalupu Bujji who recommended Tanu Weds Manu to me. He said that he would produce it if I like it. I saw the film and I liked two points which will suit me and taste of Telugu audiences. These are 1. Sincerity of hero. 2. Tension about whether hero's wedding happens or not.
But I had a commitment with Mega Supergood banner. I asked Bujji if I can do this film for Supergood banner and he said ok. They have bought remake rights and selected Devi Prasad to do the remake. Mr Pelli Koduku is a tricky proposition film for me as I am known for my strong slang based comedy, but my character in Mr Pelli Koduku is a subdued character of an NRI. But the situations and scenes are written in such a way that the comedy is generated through the characters around and through expression. Tanu Weds Manu is a class subject and we have added mass elements without compromising the gist and soul of the original.
Heroine character is vibrant in Hindi version. Heroine drinks and smokes at the drop of hat in Hindi version. We had to make Isha Chawla's character a little less vibrant to suit the tastes of Telugu audiences. I have molded my looks and characterization in this film similar to that of Ajay Devgan in Hum Dil De Chuke Hain Sanam.
But we made sure that the classy story is told appropriately without mass elements. My introduction song (Mr Pellikoduku track) is going to be very good and we shot that song in 38 degrees temperature in Malaysia. What appears like water on my body and pants is not water. But sweat! I have a lot of knee steps in Mr Pelli Koduku that I started wondering if somebody will start calling me 'knee star' for fun. I have another 6-pack fight for climax. We have reworked on the climax of original to make the new one look completely natural. 6 pack and sympathy doesn't go well together. But fortunately, both my films Poola Rangadu and Mr Pellikoduku gave perfect opportunity mix sympathy with six-pack.
Future films
1. I am currently doing Telugu remake of Tamil film Vettai with Naga Chaitanya. Dolly (KIKK fame) is the director. I really like his precision in work and his passion for having consistent characterizations.

2. I am doing a film for Suresh Productions in the direction of Udaya Shankar. It's a Govinda type of comedy entertainer and you will get the feel of Rajendra Prasad's primetime comedy films. The shooting of this film starts on 2 March.

3. I am okayed a film to be produced by Nallamalupu Bujji. This film introduces Vicky (Vikram Sirikonda) as director. It has superb story line.

4. I will be acting in the directorial debut of writer Gopi Mohan.

5. I have another film in the direction of Veeru Potla