Story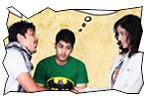 Hyderabad story: Jai (Abhejit) and Rishi (Siddhu) are friends for a long time. Jai is a proper guy and Rishi is a temperamental guy whose is prone to bad habits. Jai and Rishi are introduced to Anu (Nishanti Evani). Anu is a prim and systematic girl. This story is all about whom Anu chooses.
Dallas story: Rajesh (Rohan) and Radhika (Chinmayi) are inseparable friends staying in Dallas. Radhika is in love with Rajesh and he thinks that it's just a gesture of deep friendship. Varun (Asif Tej) - an Amricanized youngster enters their lives. The rest of the story is about who ends up with Radhika.
Artists Performance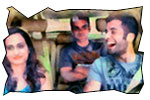 95% of the actors in this movie are new ones. Since it is a character-based movie, all the actors will get mileage/recognition based on the kind of character one does. Siddhu steals limelight in the first half. He is an excellent talent who can suit our typical Telugu cinemas. He has flexible body language and likable dialogue delivery. Abhijet is cute and he is the dark horse of the movie who gets highlighted as the movie progresses. Asif Tej is a cool dude and he brought believability to the character with his amazing accent and coolness (it reminded me of the boy-friend character in Erin Brockovich). Rohan underplays most of the time and his timing in peunltimate scenes is really good. Nishanti and Chinmayi are not of typical Telugu film heroines type, but suited the characters. Chinmayi wins you over with her performance though the make-up is not proper in certain scenes. Nishanti is natural.
Technical departments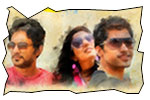 Story - screenplay - direction: LBW is the fusion of two unrelated triangular stories among six different personalities (four boys and two girls). Director Praveen Sattaru comes to Telugu film industry with no practical experience. He used that practical inexperience into his advantage by inducing fresh characterizations and unadulterated story telling. Praveen has shown deftness in direction though there are certain prolonged/dull scenes that originated out of not-so-effective screenplay. Characterizations are superb. It's a confident and honest debut by Praveen and it deserves appreciation. If he can set his script right with a bit commercial orientation, he will become a commercially successful director.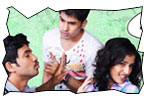 Other departments: The cinematography of the movie is very good. This film is shot using Red One camera and within limited resources. Music by Anil is peppy and most of the songs come in the second half. All songs of the movie are either situational or montages. Dialogues are authentic (a lot of them are in English). Editing by Dharmenda is neat. This film is made in a budget of 2.2 crores and it turned out to be a at least a 4-crore-budgeted movie in terms of output and production quality.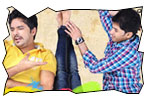 Analysis: LBW is a new-age multiplex film that is aimed at classes. No compromises have been done to dumb down the movie incorporate commercial elements. The entire first half establishes the characters and sets the plot up. The second half gets high on entertainment. The pre-climax and climax portions of the movie are prolonged (but highly realistic). After Sekhar Kammula, Krish and Deva Katta, I have seen such a potential in Praveen Sattaru among the NRI-profiled directors. LBW is honest and pure cinema aimed at multiplexes. You may watch it!
Tailpiece: It's ironic that a true multiplex film like LBW is denied a single show any of the multiplexes in Hyderabad. All those people who protest about survival of small cinema should really help a meaningful and sensible film like LBW getting some slots in multiplexes.
LBW Links
• User reviews
• Praveen interview
• Nishanti chat
• Abhijet chat
• Music launch
• Logo launch
• Photo gallery
• Wallpapers
• Trailers & videos
Jeevi reviews of previous 5 films
• Vastadu Naa Raju
• Gaganam
• Jai Bolo Telangana
• Ala Modalaindi
• Golkonda High School
• Anaganaga O Dheerudu
• Mirapakai
• Ragada
• Manmadha Banam
• Nagavalli
• Kathi Kantha Rao
• Manasara
• Rakta Charitra 2
• Orange
• Yemaindi Ee Vela
• Kalyanram Kathi
• Rakta Charitra 1
• Khaleja
• Robo
• Saradaga kasepu
• Komaram Puli
• Don Seenu
• Maryada Ramanna
• Jhummandi Naadam
• Vedam


More Reviews